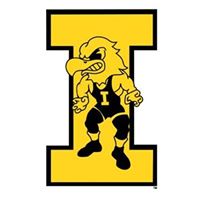 Ryan Sokol of Inver Grove Heights, MN (Simley H.S.) announced on October 14 that he was going to be an Iowa Hawkeye. Sokol is the first and only member of the Iowa Wrestling Recruiting Class of 2021.
Sokol won a Cadet freestyle national title in 2017 at 120 lbs., placed fifth in state in seventh grade and third in eighth grade. His season was cut short due to injuries last year as a freshman.  FloWrestling has Sokol ranked #22 overall for the Recruiting Class of 2021. Sokol is ranked #2 in 2A at 132 lbs. by The Guillotine. 
An added boost to the stock of Sokol as a recruit is that is he from national powerhouse Simley High School.  Smiley has been an elite program for years. Simley has won 11 state titles starting in 1987. The Guillotine has Simley ranked #2 in 2A and InterMat has Simley ranked #21 in the nation.  I also need to mention that Minnesota high school wrestling is very tough and Sokol will see very good competition every week.  Sokol will kick off his sophomore season when Simley travels to Apple Valley for a dual meet on Friday, November 30.  That is the way to start a season.
Sokol will be at the Cheesehead Invitational in Kaukauna, WI on January 4-5. Future Iowa Hawkeye teammates Zach Glazier (Albert Lea, MN), Patrick Kennedy (Kasson-Mantorville, MN) and Cullan and Colby Schriever (Mason City, IA) will join Sokol at the Cheesehead.  
I will be following all of the incoming Iowa Wrestling recruits this season.
It is great to be an Iowa Wrestling fan.
Go Hawks!
Simley High School schedule