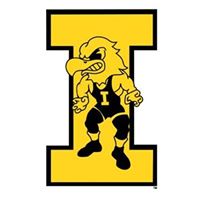 National Letter of Intent Signing Day is finally here.  Iowa Wrestling continues their string of successful recruiting classes with the 2019 edition.  With only one senior in the lineup in Sam Stoll as well as senior Mitch Bowman, Iowa did a great job of bringing in two top recruits.
Abe Assad committed to the University of Iowa on August 7.  Assad won a Bronze at the World Cadet Freestyle Championships in Zagreb, Croatia at 80 kg/176 lbs. this past summer. He won the UWW Junior World Team Trials in both Freestyle and Greco-Roman and recently won the prestigious Super 32.  Assad won a state title at 170 lbs. for Glenbard North High School last season and is at 182 this season. Assad also competes for Izzy Style Wrestling and that adds even more to his status as an elite recruit.
In recent blogs and podcasts, I called Assad the number one recruit on my wish list for the Recruiting Class of 2019. This is a definite blue chip recruit that has a great future ahead of him in college and International wrestling. I see Assad being in line to take over for Cash Wilcke at 184 in the Iowa lineup as a redshirt freshman. Assad can redshirt next year while Wilcke is a senior.
Zach Glazier announced on June 27 that he committed to the University of Iowa. Glazier, from Albert Lea, MN, won a AAA State title for Albert Lea Area High School as a junior this past season at 170 lbs. Glazier is tall and rangy so predicting his future weight in college is just a guess.  I can see Glazier competing at 184-197. I feel as though Glazier has a lot of potential to grow and prosper in the Iowa Wrestling program. Huge upside here.
Both Assad and Glazier have the background in wrestling with the toughness, work ethic, and winning as well as the personality that Iowa Wrestling is looking for.  Not everything important about a recruit can be seen on a national ranking by someone in the wrestling media. It doesn't matter how good a recruit is if they do not fit in with the Iowa Wrestling teammates. From what I have seen, Assad and Glazier are both a perfect fit for Iowa Wrestling.
Iowa Wrestling has their biggest start to a future recruiting class in the history of the program for next year.  Iowa has already received a verbal commitment from Patrick Kennedy, Cullen Schriever, Colby Schriever, and Jesse Ybarra for the Recruiting Class of 2020.  The National Letter of Intent Signing Day for that class will be Wednesday, November 13 of 2019. I am fairly certain that Iowa will continue to add to both the class of 2019 and 2020.  Iowa also got a start on the Recruiting Class of 2021 with the verbal commitment of Ryan Sokol.
I really like the way that Iowa Wrestling has adapted to the changing landscape of college recruiting.  Recruiting in most college sports, especially wrestling, has changed a lot in the last ten years and is pretty much unrecognizable compared to 20-30 years ago.  You adapt in business to changing trends or get left behind. Iowa Wrestling adapted and now they are kicking ass out On The Recruiting Trail.
Right now the Iowa Wrestling program is filled to the rafters with tough, hard nosed, dedicated young men that win on and off the mat with academics, wrestling, and in life.  You cannot overstate the importance of making sure that trend continues by bringing in recruits that are the right fit for the program and that Iowa Wrestling is the right fit for the recruit.
Job well done, Iowa Wrestling.
It is great to be an Iowa Wrestling fan.
Go Hawks!
Recruiting Class of 2019
Abe Assad – Carol Stream, IL  (Glenbard North HS) 182 lbs.
Zach Glazier – Albert Lea, MN  182 lbs.
Recruiting Class of 2020
Patrick Kennedy – Kasson-Mantorville, MN 170 lbs.
Cullen Schriever – Mason City, Iowa  113 lbs.
Colby Schriever – Mason City, Iowa  132 lbs.
Jesse Ybarra – Tucson, AZ (Sunnyside HS) 126 lbs.
Recruiting Class of 2021
Ryan Sokol – Grover Heights, MN (Simley HS) 132 lbs.