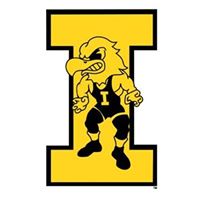 The quest for Iowa Wrestling fans leading the country in attendance begins tonight.  Iowa hosts Princeton at 7 PM in legendary Carver-Hawkeye Arena for the home opener. Iowa has led the country in attendance in each of the twelve years Tom Brands has been the head coach.  I definitely want to see that steak extended to thirteen.
I would think seeing Spencer Lee step out on the mat first for Iowa would be enough to get fans in the door.  #1 ranked Lee will face #14 Pat Glory, a very tough true freshman that was a huge recruit for Princeton. The biggest match of the night will be at 149.  Patricio Lugo, ranked #12, will face #1 ranked Matt Kolodzik. Lugo pinned Kolodzik at Midlands in 2017.
Lugo will be joined by Austin DeSanto (133), Max Murin (141), Myles Wilson (174), Aaron Costello (Hwt) and Connor Corbin/Jacob Warner (if they wrestle at 197) in making their Carver-Hawkeye Arena debut.  That may be an Iowa Wrestling record to have that many Iowa wrestlers making their home debut as an Iowa Hawkeye in the same dual meet.
I do not know who will take the mat at 197.  A healthy Bowman will get the call should Jacob Warner not compete.  If Warner is not an option and Bowman is unable to go, then Connor Corbin will take the mat.  Bowman and Corbin both looked good last weekend in their matches in Ohio.
I do not expect to see Michael Kemerer at 174 or Sam Stoll at Hwt. tonight.  Redshirt freshman Myles Wilson (174) and Aaron Costello (Hwt) also looked good in Ohio with both of them going 2-0 on the night.
Regardless of who takes the mat in the Black and Gold tonight, Iowa will have a very entertaining team to watch.  I am really looking forward to seeing the entire team and especially all of the Iowa Wrestlers making their home debut.  I have been talking about watching an Iowa dual meet that started with Spencer Lee and Austin DeSanto since DeSanto committed to Iowa last spring.  Now that first time is finally here and I cannot wait.
Tickets are available for any walk-ins for tonight's meet.  
FloWrestling will have the dual meet live online and Hawkeye All-Access will have the radio play-by-play with Mark Ironside and Steven Grace.  You can keep up with updates on Twitter: @IowaWRLive.
I have been saying for years that Iowa Wrestling fans are the most dominant fanbase in any sport in America.  I am sure we all want #13 to happen this season by leading the country in attendance. Let's make it happen.
Let's get 'em in the middle.
It is great to be an Iowa Wrestling fan.
Go Hawks!
Projected lineup:
125 – Spencer Lee
133 – Austin DeSanto
141 – Max Murin
149 – Patricio Lugo
157 – Kaleb Young
165 – Alex Marinelli
174 – Myles Wilson
184 – Cash Wilcke
197 – Mitch Bowman/Connor Corbin/Jacob Warner
Hwt – Aaron Costello