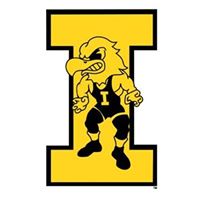 The University of Iowa Wrestling program was well represented on the listing of 2019 Big Ten Winter Academic All-Big Ten. Thirteen wrestlers were selected to the list including two-time NCAA National champion Spencer Lee. 2019 All Americans Alex Marinelli, Jacob Warner, Kaleb Young and 2017 and 2018 All American Michael Kemerer were also named for the honor.
The Iowa Wrestling Recruiting Class of 2017, ranked #1 in the country, had five members on the Academic All-Big Ten list in their first year of eligibility for this honor: Zach Axmear, Connor Corbin, Aaron Costello, Spencer Lee, and Jacob Warner.
Iowa Wrestling had ten members on this list last Spring.
From HawkeyeSports.com:
To be eligible for Academic All-Big Ten selection, students must be on a varsity team, as verified by being on the official squad list as of March 1 for winter sports, who have been enrolled full time at the institution for a minimum of 12 months and carry a cumulative grade-point average of 3.0 or higher.
Zach Axmear – RS Fr. – Pre-Business – North English, Iowa
Connor Corbin – RS Fr. – Biology – Des Moines, Iowa
Aaron Costello – RS Fr. – Sport & Recreation Management – Dubuque, Iowa
Michael Kemerer – RS Jr. – Finance – Murrysville, Pa.
Spencer Lee – So. – Sport & Recreation Management – Murrysville, Pa.
Alex Marinelli – RS So. – Sport & Recreation Management – Miamisburg, Ohio
Aaron Meyer – Sr. – Health & Human Physiology – Pleasant Hill, Iowa
Danny Murphy – RS So. – Open Major – Fort Collins, Colo.
Keegan Shaw – Sr. – Economics & Finances – Altoona, Iowa
Justin Stickley – So. – Business – Urbana, Ohio
Vince Turk – RS Jr. – Communications Studies – Hampshire, Ill.
Jacob Warner – RS Fr. – Business – Tolono, Ill.
Kaleb Young – RS So. – Human Physiology – Punxsutawney, Pa.
Congratulations to the Iowa wrestlers for this prestigious honor.  Getting it done in the classroom, practice room, and on the mat in competition.
It is great to be an Iowa wrestling fan.
Go Hawks!