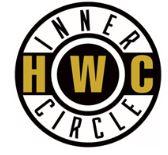 The Hawkeye Wrestling Club had a meeting in Des Moines last night for area supporters.  Iowa Head Coach Tom Brands was the guest speaker. Topics included the upcoming HWC Banquet and the schedule for upcoming golf outings.  Members of the HWC Inner Circle have created a new online forum at nineteen84 https://nineteen84.club/  I will get you more information on this great new platform in an upcoming Iowa Wrestling Fan blog and podcast.
Guest speaker Tom Brands updated the group on the upcoming Freestyle season and the new facility.  Progress is being made on the facility fundraising effort. Former Hawkeye great Royce Alger and HWC President Randy Novak were also in the crowd to talk to HWC members.
Iowa Wrestling has had great support in the Des Moines area for decades. Over the last three years the support has went way up.  There are a lot of people in the Des Moines area working very hard to support the HWC. Jim Sinclair has been very involved and influential in the fundraising effort for the new facility and Steve Reece has been the organizer of Des Moines area events for the HWC.  
It is impressive what groups like the Des Moines area HWC supporters have accomplished.  Their support of the HWC is influential and appreciated. With the new facility project, overall the HWC is having more of an impact on Iowa Wrestling than maybe anytime in the 46-year history of the club.
To all of the the HWC members and the Iowa Wrestling Nation, thank you for what you do.  We all want Iowa Wrestling to win.
The Hawkeye Wrestling Club will hold their annual banquet at the Kirkwood Conference Center (The Hotel) on Friday, May 31.  There will be a silent auction beginning at 6 PM followed by appetizers. Iowa Head Coach Tom Brands and HWC coach Mark Perry will be the guest speakers.  
*This is a new date for the banquet that was originally scheduled for May 17.
For reservations, please go to www.hawkeyewrestlingclub.com
If you would like to contribute to the Silent or Live Auction, please contact HWC President Randy Novak:
randynovak@hawkeyewrestlingclub.com
I will keep you up to date with upcoming events of the HWC on my Iowa Wrestling Fan blog and podcast.
It is great to be an Iowa Wrestling fan.
Go Hawks!