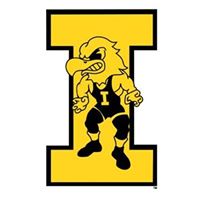 Incoming Iowa Wrestling recruit Jesse Ybarra will be competing at FloNationals this weekend.  This is a tough tournament that draws in wrestlers from around the country that will also serve as the 2019 Men's Cadet Pan American Team Trials.  Wrestlers who place in the Top 8 will receive separation (seeding) criteria for the Cadet World Team Trials in Akron, OH on June 1-2. FloWrestling is the host of the tournament.
For the first time in the ten year history of the event, competition has changed from Folkstyle to Freestyle and Greco-Roman. Freestyle is on Friday and Saturday, April 19-20.  The action will take place in the Kovalchick Complex on the campus of Indiana University in Indiana, PA.
Ybarra is a two-time State champion and a Runner-Up from Tucson, AZ (Sunnyside HS) and won a Cadet national title last summer in Fargo.  Ybarra will be competing at either 55 kg (121 lbs.) or at 60 kg (132 lbs.).
Ybarra is a member of the Iowa Wrestling Recruiting Class of 2020 that also includes:
Patrick Kennedy – Kasson-Mantorville, MN 170/182 lbs.
Cullan Schriever – Mason City, Iowa 120 lbs.
Colby Schriever – Mason City, Iowa 138 lbs.
Jesse Ybarra – Tucson, AZ (Sunnyside HS) 126 lbs.
Gabe Christenson – Runnells, Iowa (Southeast Polk HS) 195 lbs.
I will keep you up to date with results.
It is great to be an Iowa Wrestling fan.
Go Hawks!