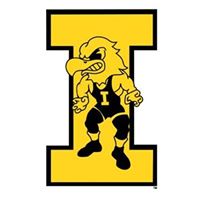 Incoming Iowa Wrestling recruits Abe Assad, Zach Glazier and Gabe Christenson will be competing at USA Wrestling Junior National Duals in Tulsa, OK this weekend.  Over 600 wrestlers from 30 states will be competing.  Assad will compete at 182 lbs., Glazier at 182 lbs., and Christenson at 195 lbs.
Assad, Glazier, and Christenson will wrestle in both the Greco-Roman and Freestyle dual meet tournaments.  Greco-Roman is on Wednesday and Thursday and Freestyle will be on Friday and Saturday.
Assad (Carol Stream, IL – Glenbard North HS) and Glazier (Albert Lea, MN – Albert Lea Area HS) are in the Iowa Wrestling Recruiting Class of 2019 and will be freshman this fall for the Hawks.  Christenson (Runnells, Iowa – Southeast Polk HS) is in the Recruiting Class of 2020.
Iowa Wrestling Assistant Coach Ryan Morningstar will serve as head coach for Team Iowa in Freestyle at Junior Duals and at Cadet/Junior Nationals in Fargo, ND on July 13-16.
The duals will be available on live stream on TrackWrestling.
I will keep you posted for results.
Greco-Roman
Wednesday, June 19
Session 1: 9 AM – 12:30 PM  Prelims through semifinals
Session 2: 1:30 PM – 7 PM  1st, 3rd, 5th, and 7th place duals
Thursday, June 20:
Session 3: 9 AM – Noon  Round 1 and 2 Preliminary Duals
Session 4: 1 PM – 5 PM  Finals and Placement Match Duals
Freestyle
Friday, June 21
Session 1: 8 AM – Noon  Rounds 1, 2, and 3 Prelims to Semifinals
Session 2: 1:30 PM – 8 PM  Rounds 4, 5, and 6 Placement 1st – 8th
Saturday, June 22
Session 3: 9 AM – 3 PM  Round 2, 3, and 4 Prelims through Finals
*All times listed are CST.
It is great to be an Iowa Wrestling fan.
Go Hawks!