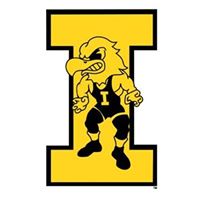 There has been a lot of talk online about Iowa Wrestling hosting the 2019 edition of Who's #1.  This is an event put on by FloWrestling that matches some of the top high school wrestlers in the country against each other in a dual meet format.  I have watched this event on Flo the last several years and the level of high school wrestling will leave you shaking your head. Awesome talent will be on display.  This is a very well done event.
This event was held at Lehigh last year. In a recent article Flo stated the target date for the 2019 Who's #1 is Saturday, September 28.  Also in that article Flo stated that they are looking at several locations including Carver-Hawkeye Arena. 
With Iowa leading the country in attendance for the college wrestling world the last 13 consecutive years and the way Iowa hosted the Olympic Trials and World Cup, I have to like our chances.  Iowa Wrestling, the University of Iowa, and the Iowa City/Coralville area know how to host a premiere wrestling event.
Iowa does have a home football game against Middle Tennessee State on the 28th.  I would guess that this will be an 11 AM kickoff time and the crowd should thin out pretty good for wrestling fans making their way to Carver that evening should Iowa get the bid as host.  This would also present a great opportunity for Iowa Wrestling fans to take in an Iowa practice before the game and then stay in town for Who's #1. Make a day of Iowa Wrestling with an Iowa football game in the middle.
The interest in having Who's #1 in Carver-Hawkeye Arena should excite all Iowa Wrestling fans.  What an outstanding recruiting pitch to top top high school wrestlers to have them workout in the Iowa Wrestling room and then compete in legendary Carver-Hawkeye Arena. Then when you factor in the matchups for our incoming recruits competing against other highly ranked wrestlers will take the anticipation up to another level.
After winning his Junior National title at 170 lbs. in Fargo, incoming Iowa recruit Patrick Kennedy received a Golden Ticket to compete at this year's Who's #1.  Kennedy is our elite recruit that will be a senior this coming school year at Kasson-Mantorville, MN. An opponent has not been named for Kennedy at this time.
Incoming Iowa recruit Ryan Sokol of Inver Heights, MN (Simley HS) has also accepted an invitation to compete against Beau Barlett of Pennsylvania at 138 lbs.  Sokol will be a junior this year and is the headliner for the Iowa Wrestling Recruiting Class of 2021. Barlett is a huge recruit that has already committed to Penn State.  An Iowa-Penn State match will put fans in the seats alone.
Paddy Gallagher of Chesterland, Ohio (St. Ed's HS) also received a Golden Ticket to compete at Who's #1 after winning his Junior National title at 160 lbs.  Gallagher is #1 on my Recruiting Wish List and I am sure he is a target for every college program in the country. 
This would be a great event for Iowa Wrestling to host.  I would like to think the elevated platform would come out and wrestling fans in the great state of Iowa would show up by the thousands and break any attendance records that Who's #1 has.  Flo always has a live stream of Who's #1 going out to the world so yet another way for Iowa Wrestling to look great.
I will keep you up to date and let you know as soon as I can if Iowa does indeed get to host Who's #1.  Should we get the bid, I expect a great event that will really promote our sport of wrestling like no other host in the world can do.
It is great to be an Iowa Wrestling fan.
Go Hawks!