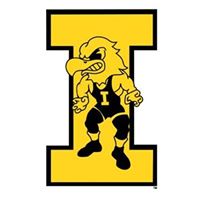 The Hawkeye Wrestling Club will have practice open to the public at 8:30 AM on Saturday, September 28. The doors of the Iowa Wrestling room in the Dan Gable Wrestling Complex will open at 7:30 AM. The bleachers will be pulled out and fans are welcomed to attend.  In the past, Iowa wrestlers would be working out on their own at this time. The Iowa-Middle Tennessee football game is an 11 AM kickoff.
There was a great crowd for the first two football Saturdays at the HWC practice as the bleachers were full and fans were standing and sitting around and on the mats.  
Iowa will start the 2020 season at home against Tennessee-Chattanooga on Sunday, November 17.  We will see the best home schedule in the history of Iowa Wrestling for the upcoming season.  Season tickets are on sale now.
The Iowa Wrestling season cannot start soon enough.
Upcoming events:
September 28 – Home football game vs. Middle Tennessee St  Kickoff 11 AM
October 5 – Who's #1 by FloWrestling at Carver Hawkeye Arena at 5 PM
October 10 – First day of practice for Iowa Wrestling
October 12 – Home football game (& Coaches Clinic) vs. Penn St.  Kickoff TBD, 
October 19 – Home football game vs. Purdue (Homecoming)  Kickoff 11 AM
November 13 – National Letter of Intent Signing Day for the Recruiting Class of 2020
November 16 – Home football game vs. Minnesota  Kickoff TBD
November 17 – Iowa Wrestling season opener at home vs. Tennessee-Chattanooga
November 23 – Home football game vs. Illinois  Kickoff TBD
It is great to be an Iowa Wrestling fan.
Go Hawks!