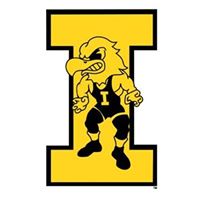 Austin DeSanto is the heartbeat of Iowa Wrestling.  After transferring into the program last year from Drexel, DeSanto raised the bar for excitement and energy for the entire Iowa Wrestling program.  Austin DeSanto ranks right up there with energy and conditioning with any Iowa wrestler that I have seen. That is saying a lot. This guy's presence adds to the overall intensity of any competition or practice that he is in.
DeSanto is very popular with the Iowa fans and Iowa wrestlers.  His intensity and desire to win in competition and in the practice room is a great addition to the program.  Last year DeSanto competed at one of the toughest weight classes in the history of NCAA wrestling. 133 lbs. was unbelievable.  When the dust settled, DeSanto placed fifth in the country at Nationals. A solid accomplishment at such a tough weight class.
With a 23-6 record last season, DeSanto had two pins, four tech falls, two match terminations from stalling, and six major decisions.  All six of his losses were to ranked wrestlers with five of them being ranked in the top 6 in the country. Add in a Midlands title and fourth place finish at the Big Tens for a very good year.
The top three place winners at 133 from last year are taking an Olympic redshirt this season: Suriano, Fix, and Micic.  2018 NCAA champion Seth Gross will be back at 133 this season and is ranked #1. Gross was out with an injury last season.  
I have a hard time betting against anyone that works as hard as Austin DeSanto does.  With the elite coaching in the room and unlimited elite workout partners, DeSanto is in a great position to have a huge year for the Hawks. Day in and day out DeSanto is working at a very high pace in the room or competition.  That will pay off.  
With added time in the Iowa room, I believe DeSanto will pick up a more varied offensive attack. I agree with the #3 ranking for DeSanto at this time, but I am picking him to win it all this season. With what we all saw last year, I do not think that is much of a stretch. 
The Hawks have the best home dual meet schedule in the history of Iowa Wrestling this season.  Should they start the dual at 125 like they should, Spencer Lee and Austin DeSanto will lead the way.  That will be very entertaining for the Iowa Wrestling fans. We are guaranteed to begin the Big Tens and NCAA's at 125.  That momentum and setting the tone is huge in a team race.
Just the thought of Lee-DeSanto taking the mat to lead the Hawks into battle has me wanting the season to being right now.
Austin DeSanto (23-6) placed 5th and scored 13.0 team points.
Champ. Round 1 – Austin DeSanto (Iowa) 23-6 won by disqualification over Codi Russell (Appalachian State) 21-12 (DQ)

Champ. Round 2 – Austin DeSanto (Iowa) 23-6 won by decision over Roman Bravo-Young (Penn State) 25-7 (Dec 7-2)

Quarterfinal – Stevan Micic (Michigan) 19-1 won by decision over Austin DeSanto (Iowa) 23-6 (Dec 3-2)

Cons. Round 4 – Austin DeSanto (Iowa) 23-6 won by major decision over Austin Gomez (Iowa State) 24-7 (MD 16-5)

Cons. Round 5 – Austin DeSanto (Iowa) 23-6 won in sudden victory – 1 over Ethan Lizak (Minnesota) 32-7 (SV-1 4-2)

Cons. Semi – Luke Pletcher (Ohio State) 27-7 won by decision over Austin DeSanto (Iowa) 23-6 (Dec 7-6)

5th Place Match – Austin DeSanto (Iowa) 23-6 won by decision over John Erneste (Missouri) 22-7 (Dec 11-6)
133 lbs. TrackWrestling Rankings on October 15
Seth Gross – Wisconsin, Sr

Luke Pletcher – Ohio State, Jr

Austin DeSanto – Iowa, Jr

Roman Bravo-Young – Penn St, So

Micky Phillippi – Pittsburgh, So

Austin Gomez – Iowa State, So

Montorie Bridges – Wyoming, Jr

Taylor LaMont – Utah Valley, Jr
It is great to be an Iowa Wrestling fan.
Go Hawks!