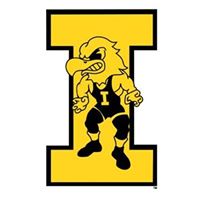 Iowa Wrestling hosted recruits this weekend over homecoming and they have already struck gold. The Hawks received a verbal commitment from Wyatt Henson of Missouri to join the program.  Hensen is ranked #7 at 132 lbs. by FloWrestling and is projected to compete at 141 lbs. in college. Henson placed third at 126 at Junior Nationals in Fargo last summer and third at 126 at Cadets in 2018.  This marks the first commitment for the Iowa Wrestling Recruiting Class of 2021.
Henson is what you want for an Iowa Wrestling recruit.  He is well known for being aggressive, technically sound, hard working, and in great shape.  A huge plus for me when evaluating Henson is that he is on the rise and still progressing at a high rate in his career and I look for those improvements to continue throughout college.  This is a very good pick up for the Hawks.
Wyatt is the son of Sammy Henson who was a 1998 World champion, 2000 Olympic Silver medalist, and 2006 World Bronze medalist.  The relationship of Sammy Henson with Tom and Terry Brands would go back for many years on the international wrestling scene for Team USA. Sammy and Terry were teammates on the 2000 Olympic Team and Tom Brands was involved in coaching for Team USA on World and Olympic teams of that era.
I will follow Henson's junior season this year along with the other committed recruits of Iowa Wrestling.  As with last season, I will have a blog to tell you when and where the recruits will compete that weekend and a follow up blog with results for the entire high school and freestyle season.
Henson is the first commit so far from the group of recruits that visited this weekend and I am hoping there are more to come in the near future for Iowa Wrestling.  I will keep you posted.
It is great to be an Iowa Wrestling fan.
Go Hawks!