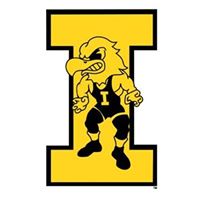 Opening Day of Iowa Wrestling practice is always a big day for me.   That special day was yesterday as the 2019-2020 edition of Iowa Wrestling got to work with their official first practice of the season. Some of my best memories of Iowa Wrestling are from the practice room.  The Iowa Wrestling room is also where I have seen the most entertaining wrestling over the years.
The first thing you will notice about this time of year is that the Iowa Wrestlers are down to weight.  It is usually around this time that the wrestlers will certify for the year. Overall, top to bottom, the Iowa Wrestling team looks like they are more than ready to go right now.  
I will stick to my standby line and say that Spencer Lee is… Spencer Lee.  A healthy Spencer Lee will take his game to another level this season at 125.  Austin DeSanto at 133 is always working hard and I do not believe he has an off-season.  Gavin Teasdale definitely looks like he is in shape and ready to go. Teasdale looks much different from 4-5 months ago.  This is a high quality athlete with a ton of potential. As far as where Teasdale fits into the lineup and at what weight, I do not know.  I do know that Gavin Teasdale is a high quality performer from the Young Guns in Pittsburgh and one heck of a wrestler.
Max Murin has put on more size and I am looking for a very good season out of him.  141 is a pretty open weight and we need the points at the NCAA's. The biggest question for me for the lineup this season is 149.  Patricio Lugo is a defending All-American and is the clear cut favorite. However, Vince Turk looks like he is going 149 to me. Add in Jeren Glosser and 149 will be a real battle.  Should Turk go 149, that will be three redshirt seniors looking to make the lineup. I am looking for this to be real tough competition for the varsity spot at 149 throughout the season.  
Kaleb Young is always in competition shape.  Should Young improve half as much as he did last year, he will be a finalist pushing for the title and score a lot of points for the Hawks at the NCAA's.  Alex Marinelli looks to be at weight right now. I saw a post on Twitter that Marinelli was the first one at practice yesterday. I would say Bull has motivation in overdrive to finish the season on top.
The best word to describe Michael Kemerer?  Beast. Fans will see what I am talking about the first time they see Kemerer running out on the mat.  This guy is huge and looking very ornery. Give Kemerer five months to work his way into a new weight class of 174 from 157 and look out.  Cash Wilcke made the Round of 12 as a freshman and sophomore and Round of 16 last year. For the fourth year in a row I will say that Wilcke is the best athlete on the team.  The potential is there at an open weight nationally. Just a guess that Nelson Brands looks to be in the 174 lbs. range and looks great.  
Jacob Warner looks to be bigger and stronger than last year.  After placing seventh last year, I am looking for Warner to have a big year at 197.  All of the potential you could want from an elite recruit. Anthony Cassioppi will be competing at Hwt that is a loaded weight class.  I look for Cassioppi to roll into Big Tens ready to compete with anyone in the nation. More than anything, Cassioppi is a pinner and will be very entertaining to watch.
Overall the talent level in the Iowa Wrestling room right now is at a Gable Era level.  Iowa Wrestling has the athletes from great recruiting and the entire world knows that they are working very hard.  All of the pieces look to be in place for a great year.  
It is great to be an Iowa Wrestling fan.
Go Hawks!