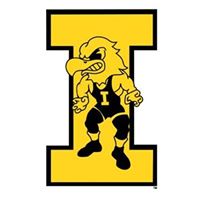 Who's #1 in Carver Hawkeye Arena was not only a great and entertaining event to watch, it was an amazing look at recruiting.  As you know, recruiting is always at the top of my list. I knew that the Iowa recruits were going to have very tough matches that would be close.  I do not know how the incoming Iowa recruits could have looked any better. Iowa recruits Jesse Ybarra and Patrick Kennedy not only won their match, they won their match Iowa-Style.  
Top ranked Jesse Ybarra was in a very close match with #2 Jakason Burks. After a scoreless first period, both wrestlers managed an escape to make it 1-1.  You could tell by the body language of the two wrestlers that Ybarra was going to get it done. Ybarra shot in for the takedown and scored to win the match 3-1. Conditioning was definitely a factor for Ybarra in winning that match.  With Ybarra at Iowa and Burks at Oklahoma State, I am sure these two will meet in the future and maybe at Carver Hawkeye Arena.  
The biggest match of the night was Patrick Kennedy vs. Alex Facundo. This match was going to come down to the aggressive Kennedy shooting in and Facundo with his counters.  Would Kennedy be able to finish the shots? The answer was yes in a match of two great wrestlers. Kennedy was able to convert two shots into takedowns for a 5-2 win. Facundo, a junior, has not committed to a college at this time.  That was a great match between two competitors with a great future in wrestling.
Former Iowa commit Ryan Sokol, ranked second, dropped a 6-3 decision at 138 lbs. to top ranked and Penn State recruit Beau Barlett.  
Top ranked Paddy Gallagher of Ohio lost by tech fall in a freestyle match at 160 lbs. to Missouri commit Keegan O'Toole of Wisconsin.  One match like that does not make a difference for me. Gallagher is still #1 on my Recruiting Wish List. 
A wrestler that really impressed me was Jesse Mendez of Indiana.  Just a sophomore, Mendez competed at 132 lbs. that was the only weight class to have the top four wrestlers compete.  Mendez won his first match against #4 ranked Ryan Jack in a thrilling 9-8 match that came down to the very end. Mendez then dropped a match to #2 ranked Shayne Van Ness of New Jersey, 10-9.  
I heard about Mendez when he was in junior high and followed him last season as he won a state title and made the Cadet World Team.  I would think Jesse Mendez as a recruit would be at the top of the Recruiting Class of 2022.
Top ranked Victor Voinovich of Brecksville, Ohio was impressive at 145 lbs.  #2 Jesse Vasquez of California scored a first period takedown and was controlling the match.  When Voinovich got on top, it was over. Voinovich picked up backpoints on a turn that Vasquez was able to eventually roll through on.  The second time that happened, Voinovich got the fall in 3:42. Voinovich is uncommitted as a junior and I am sure his stock in recruiting went up a big notch from that performance. 
The level of wrestling at Who's #1 was incredible.  There were quite a few D-I coaches in the crowd and probably many more watching online.  I kept my program from Who's #1 to look back on when this group is in the International ranks competing for Team USA. College wrestling is at an all-time high right now and with the level of talent that we saw at Who's #1, we as fans are in for more great entertainment.
It is great to be an Iowa Wrestling fan.
Go Hawks!