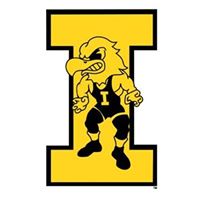 Iowa Wrestling fans are excited about the return of Michael Kemerer in the lineup.  We should be excited. Kemerer exploded onto the scene as a redshirt freshman out of Murrysville, PA (Franklin Regional HS) in 2017 to place third.  In 2018 Kemerer placed fourth in the country. Competing at 157 both years, Kemerer has a two year overall record of 60-6.  
Last year Kemerer suffered an injury early in the fall in practice and missed the entire season with knee surgery.  With the time off from competition, Kemerer is now up at 174 lbs. and looking great. Iowa fans I assure you that Michael Kemerer is more than big enough for 174.  He is cut up and ready to go. A year away from competition just may have made Kemerer a little more ornery and mean with an added hunger and desire.
I would think that Kemerer will not be in the lineup full time early in the season.  Just a guess that they will work him into the lineup. Look for Nelson Brands, a very tough redshirt freshman, to step in. 
My biggest question about Kemerer is his quickness at the new weight.  At 157, Michael Kemerer was as quick and any wrestler I have ever seen in the Iowa Wrestling room at getting in on a shot.  That goes for the lightweights of the past as well. Kemerer is really quick. Should Kemerer retain that quickness with the added weight, look out.  He will be an absolute terror on the mat. We will know soon enough.
Kemerer has been ranked anywhere from second to sixth in the preseason rankings that are out.  It was big news that defending 174 lbs. champion Zahid Valentia has moved up to 184. Mark Hall is the top rated wrestler at 174 as a three-time NCAA finalist and a former NCAA champion.  Kemerer and Hall will clash in Carver Hawkeye Arena on January 31 in the dual meet. I think it is a safe bet that we will see Hall-Kemerer in the Big Tens finals and the NCAA finals.
Look for Kemerer to continue to improve throughout the season as he gets back into the groove of being in the lineup after a year off and up two weights.  174 is a great weight for him and I expect Kemerer to get stronger and stronger as the season goes. A peaked Michael Kemerer is going to be very, very tough at the NCAA Championships in March.
It will be great to see Michael Kemerer back in the lineup again and scoring on his shots right off the whistle to get the crowd going in Carver Hawkeye Arena. His points at the NCAA's will be welcomed as well. 
The only time I like the song "Who let the dogs out?" is when we see Michael Kemerer running out of the tunnel and onto the mat in Carver.  I cannot wait.   
It is great to be an Iowa Wrestling fan.
Go Hawks!