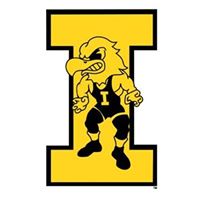 Last April I went to the Iowa Wrestling room to watch a workout at the camp they were having.  It was the third year that Iowa Assistant Wrestling Coach Ryan Morningstar has had a camp with young wrestlers from across the country.
It was great to see a solid representation of wrestlers from some of the top clubs and high schools in the country.  Former Hawkeye All-American John Heffernon brought in a van full of wrestlers from St. Ed's in Cleveland, OH to this camp in 2018.  Among those wrestlers was Paddy Gallagher. A lot of my evaluation and eventually putting Gallagher #1 on my Recruiting Wish List was from what I saw out of him in several workouts after his freshman season at this camp.
There were quite a few wrestlers wearing Izzy on t-shirts from Chicago last April.  Two-time Hawkeye All-American Jody Strittmatter brought out a group of wrestlers from his famous Young Guns Wrestling Club in Pittsburgh.
Considering that there will be four and possibly five former Young Guns wrestlers from the Pittsburgh area that wrestled for Strittmatter in the starting lineup for Iowa Wrestling this year, I thought it was only natural to ask about any future stars.
I had heard that there was a young wrestler from Young Guns that people were saying was special.  I asked his name and age and I remembered the name Bo and sixth grade.
I watched Bo wrestle that day and he was impressive.  I spoke briefly with Jody about Bo after practice and he said he was special and had a lot of potential.  I have been following Bo's career since. I of course took a recommendation like this very serious, but I thought that sixth grade was young to be writing about a wrestler.  However, a recent article in a local newspaper, national recognition and even autographs have appeared for Bo, so I feel as though it is OK to write about him now.
Already this season in October, Bo, full name Bo Bassett, has won the USA Wrestling Preseason Nationals in Des Moines.  He also won the Super 32 at 80 lbs. in North Carolina that is considered the toughest folkstyle tournament in the country.
Bo is from Forest Hills, Pennsylvania and competes for Jody Strittmatter in the Young Guns Wrestling Club. He has already won 5 Pennsylvania state titles. He is also one of five finalists for the Sports Illustrated for Kids' Sportskid of the Year and will be featured in the December issue of Sports Illustrated for Kids. And he is in seventh grade at Forest Hills Middle School.
In a recent interview with Eric Knopsnyder of The Tribune-Democrat, Jody Strittmatter said:
"I don't want to compare him to anyone else, but he's on pace to be as good as anyone we've ever coached."
When you think of names like Lee, Kemerer, Young, Murin, Teasdale, Megaludis, Nolf, and Joseph from Young Guns, that is quite a statement.
Here is a link to a good article:
https://www.tribdem.com/sports/bo-knows-wrestling-forest-hills-seventh-grader-a-finalist-for/article_7a032ff8-fc68-11e9-9e6e-2f6413d9c3de.html
If you need more, Bo is a 4.0 student. 
A big part of why I spend so much time on recruiting is because I always want to know who is the next star coming up the ranks.  I would say that Bo Bassett in #1 on my wish list for the Recruiting Class of 2025.
With accolades like that on the mat and being from Young Guns, could he be the next Spencer Lee?  
Bo Bassett.  A name to remember.
It is great to be an Iowa Wrestling fan.
Go Hawks!