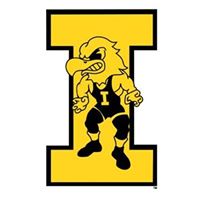 Gabe Christenson from Runnells, Iowa is entering his senior year at Southeast Polk High School.  After winning a 3A state title last year at 195, Christenson was an All American at Junior Nationals in both Freestyle and Greco-Roman last summer.  Christenson committed to the Hawks on March 13 this year and is a member of the outstanding Iowa Wrestling Recruiting Class of 2020.
Christenson will face good competition in the always tough CIML Conference.  There will be good competition at the Gardner-Edgerton Invitational in Kansas on December 7.  The best competition will be at the Cheesehead Invitational in Kaukauna, WI on January 3-4. This is one of the tougher tournaments in the country every year.  31 teams from across the country will be competing. Christenson will be joined by future Iowa Wrestling teammates Patrick Kennedy, and Cullan and Colby Schriever that will also be competing at the Cheesehead.
Christenson is currently ranked in the Top 6 in several publications at 195 lbs. nationally.  He is solid in all positions and has the commitment to the sport of wrestling that you want to see.  I also like the continued improvement that Christenson has shown that I believe is important when evaluating a recruit.  Look for Christenson to compete at 197 for the Hawks.  
I will bring you a blog every Friday during the season to let you know where our recruits will be competing and a follow-up blog with results.
Southeast Polk High School
Dec 5 – Ames
Dec 7 – at Gardner-Edgerton Invitational (Kansas)
Dec 12 – at Ankeny 
Dec 14 – at Western Dubuque Invitational
Dec 17 – Marshalltown
Dec 19 – at Ft. Dodge
Dec 21 – Southeast Polk Invitational
Jan 3-4  – at Cheesehead Invitational
Jan 9 –  Waukee 
Jan 16 – at Mason City
Jan 18 –  at Osage Invitational
Jan 23 – WDM Valley 
Jan 25 – at Ed Winger Invitational (Ankeny)
Jan 31 – CIML Conference Tournament 
Feb 6 – at DM Lincoln
Feb 15 – at Districts (DM East)
Feb 20-22 – at State
It is great to be an Iowa Wrestling fan.
Go Hawks!