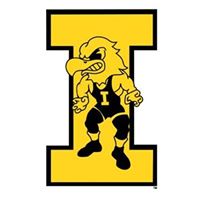 The National I-Club of the University of Iowa will have a Hawkeye Huddle on Sunday, November 24 in Ames, Iowa before the Iowa-Iowa State wrestling meet.  Jethro's BBQ Steak n' Chop will host the Hawkeye Huddle from 11 AM – 1 PM. Jethro's is at 1301 Buckeye Ave. in Ames.  
The Iowa-Iowa State dual meet is at 2 PM in Hilton Coliseum.  
I have heard that Dan Gable will make an appearance along with Iowa Wrestling legends.  This should be a great experience for Iowa Wrestling fans.
I am expecting a large crowd at the Hawkeye Huddle and a lot of Black and Gold cheering on the Hawks in Hilton.
It is great to be an Iowa Wrestling fan.
Go Hawks!