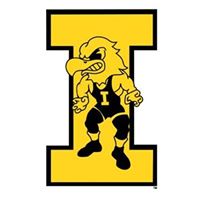 Iowa Wrestling will be competing across the state of Iowa as the much anticipated 2019-2020 season begins.  On Saturday Iowa will have eight wrestlers competing at the Grand View Open in Des Moines. 27 teams from around the country and wrestlers competing unattached will provide solid competition.  
Division I schools competing include Iowa State, Northern Iowa, and Wisconsin. There will be a varsity and fresh/soph division. Wrestling begins at 8 AM. This will mark the college debut for true freshman in the Recruiting Class of 2019 of Abe Assad, Zach Glazier, and Cobe Siebrecht.
A lot of wrestling fans will be watching the action at the Luther Open in Decorah, Iowa.  Nineteen teams from Iowa, Minnesota, and Wisconsin will be competing starting at 9 AM. Max Murin (141) and Cash Wilcke (184) were both starters last season and competed at the NCAA's.  Vince Turk represented Iowa at the NCAA's at 141 in 2018. A Vince Turk-Jeren Glosser match at 149 would solidify who is second team at 149 behind Pat Lugo. This will be the debut of Gavin Teasdale for the Hawks who will be at 133. There will be an Elite and Silver division.   
The varsity for Iowa Wrestling kicks off the season at 2 PM Sunday in legendary Carver-Hawkeye Arena against Tennessee-Chattanooga.
It will be interesting to see if any of the wrestlers competing on Saturday will compete on Sunday.  I would say not likely. That could mean we may see Paul Glynn at 133, Austin DeSanto at 141, and Nelson Brands at 184 for the Sunday dual meet against Chattanooga.
This is a huge weekend to begin what looks like a great season of Iowa Wrestling.
Grand View Open 
141 – Aaron Meyer
141 – Justin Stickley (unattached)
149 – Zach Axmear
149 – Cobe Siebrecht (unattached)
184 – Abe Assad (unattached)
197 – Cade Brownlee
197 – Sam Cook
197 – Zach Glazier (unattached)
Luther Open
125 – Aaron Cashman
133 – Gavin Teasdale
141 – Carter Happel
141 – Max Murin
149 – Jeren Glosser
149 – Vince Turk
174 – Myles Wilson
184 – Cash Wilcke
197 – Connor Corbin
285 – Aaron Costello
It is great to be an Iowa Wrestling fan.
Go Hawks!