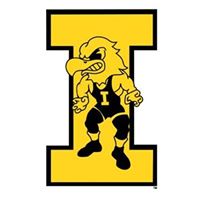 The debut for Tony Cassioppi in the Black and Gold for the Iowa Hawkeyes is almost here.  This is one of the most anticipated debuts ever for me ever as an Iowa Wrestling fan. How good is Cassioppi?  Iowa Wrestling fans are going to love this guy.
The first time I saw Cassioppi in person was at the first ever Iowa Wrestling Spring Camp that Ryan Morningstar held in April of 2017.  This is the same camp that I have been talking about so much recently as Iowa is kicking butt out on the recruiting trail. I knew about Cassioppi who at that time was a verbal commitment to Northwestern.  A 4.0 GPA will help make that happen.
At the end of practice Cassioppi was running sprints back and forth the full length of the Iowa room and beating the much smaller wrestlers.  To see a 260 lbs. teenager run that fast at the end of wrestling practice certainly caught my eye. 
After a great high school career that saw Cassioppi win titles at the high school, national, and International level, he showed up at Iowa from Roscoe, Illinois (Hononegah HS). His development in the weight room has really changed his appearance.  This is another example of what I have seen for years in the Iowa room. It is amazing how much a wrestler can develop physically during that redshirt freshman season.
It was about this time last year that Spencer Lee was asked in an interview who was the smartest wrestler on the team.  Lee immediately said Cassioppi who had only been on campus for two months. Considering that Iowa Wrestling had twenty wrestlers with a 3.0 or higher GPA last year that is saying something.  A smart wrestler with the ability to learn and adapt throughout an individual match and season is one to watch for. Look for Cassioppi to improve throughout the season and avenge earlier losses at the NCAA's.
Last season Cassioppi was 20-2 with 14 pins, 5 decisions and one win by medical forfeit.  13 of his 14 pins were in the first period. The other pin was in the second period. Safe to say that this guy is always looking for the fall and gets his work done quickly.
Comments that Cassioppi made about wanting to break the Iowa career pin record by Ed Banach at 73 got some attention at Media Day.  Iowa does not compete in as many matches as they did in the 80's, but I am not going to tell Cassioppi that.  
The Hwt division is not only loaded, but loaded with young talent.  The depth of quality athletes has never been better in D-I wrestling.  I certainly would not trade Cassioppi for anyone. The Big Ten is always home to the best big man wrestling in the country and this year is no exception.  The top four rated wrestlers are in the Big Ten. Cassioppi will face #1, #2, and #3 at home in Carver and #4 on the road. We will know soon enough just how good this freshman is.
To the fans that are used to heading for the exits in Carver at the end of the 197 lbs. match, you will be missing out over the next four years.  I for one am really looking forward to watching an exciting Hwt that is always looking for the pin. Tony Cassioppi will be an entertainer for all of the Iowa Wrestling fans. 
Hwt. Rankings by TrackWrestling on November 11
Anthony Cassar – Penn State, Sr

Gable Steveson – Minnesota, So

Trent Hillger – Wisconsin, So

Mason Parris – Michigan, So

Tate Orndorf – Utah Valley State, So

Tanner Hill – Arizona State, Sr

Jordan Wood – Lehigh, Jr

Matt Stencel – Central Michigan, Jr
12. Tony Cassioppi – Iowa Fr
It is great to be an Iowa Wrestling fan.
Go Hawks!