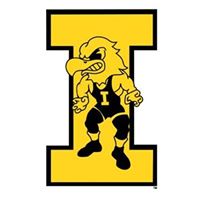 Patrick Kennedy of Kasson-Mantorville High School in Minnesota is the top recruit on the way for Iowa Wrestling.  Kennedy was the first to commit in the Recruiting Class of 2020 that became an outstanding class. Kennedy was very impressive at Who's #1 in October with a win over Alex Facundo that was ranked #1 at the time at 170 lbs.  Kennedy will be competing for his fourth Minnesota state title this season. 
Kennedy looked college ready at Who's #1 and is projected at 165/174 in college.  With the way that Iowa will be loaded next season I would expect Kennedy to redshirt. I  wanted to point out that this is a recruit that is right in line with the new trend of athletes being ready to go from day one in college wrestling.  Iowa fans are going to love watching this guy in the Black and Gold.
The best competition for Kennedy this season will be at the Cheesehead Invitational in Kaukauna, WI on January 3-4. This is one of the tougher tournaments in the country every year.  31 teams from across the country will be competing in the two-day tournament. Kennedy will be joined by future Iowa Wrestling teammates Cullan and Colby Schriever and Gabe Christenson that will be competing at the Cheesehead.
I will bring you a blog every Friday during the season to let you know where and when our recruits will be competing and a follow-up blog with results.
Kasson-Mantorville High School
Dec 6 – at Goodhue & Lake City Triangular
Dec 7 – at Andover Invitational
Dec 13 – at Triton Dual
Dec 20-21 – at Minnesota Christmas Tournament
Jan 3-4 – at Cheesehead Invitational
Jan 9 – Cannon Falls & Stewartville Triangular
Jan 14 – at Galesville-Ettick-Trempealeau Dual
Jan 16 – Pine Island & Byron Triangular
Jan 18 – at Osage Duals
Jan 23 – at Zumbrota-Mazeppa Dual
Jan 25 – Swalla Dual Tournament
Jan 30 – Kenyon-Wanamingo
Feb 1 – at Owatonna & STMA Triangular
Feb 6 – at Stillwater & Park Triangular
Feb 13 – at Section Tournament
Feb 21 – at Individual First Round
Feb 22 – at Individual Finals
Feb 27-29 – at State Tournament
It is great to be an Iowa Wrestling fan.
Go Hawks!