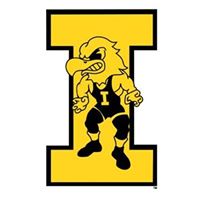 It was huge news when Brentli Reyna of South Dade High School in Homestead, Florida committed to the Hawks on October 29.  Reyna was already being recruited by Iowa when he went on a tear this fall. In early October Reyna defeated two nationally ranked wrestlers while winning a tournament in Michigan.  
It was his performance at Super 32s that really saw Reyna shoot up the recruiting ranks. In winning Super 32s, Reyna defeated three top ten wrestlers including the top ranked wrestler in the country.  That is having a tournament. Reyna will be looking for his fourth state title this year. South Dade High School also sent us current Hawkeye All Americn Patricio Lugo.
The top competition for Reyna this season will be at the always tough Best of the East in December and Virginia Duals in January.  Reyna is a member of the outstanding Iowa Wrestling Recruiting Class of 2020 and is projected at 149/157 for the Hawks.
I will bring you a blog every Friday during the season to let you know where our recruits will be competing and a follow-up blog with results.
South Dade High School
Dec 13-14 – District 16 Duals
Dec 21-22 – at Beast of the East
Dec 27-28 – at Knockout Christmas
Jan 10 – at Virginia Duals
Jan 16 – at FHSAA Regional Duals
Jan 24-25 – at Dual Meet State Championships
Jan 31-Feb 1 – at Tri County
Feb 7-8 – at GMAC Championships
Feb 13 – Southridge
Feb 22 – District 16 Championships
Feb 28-29 – at Regional 4 Championships
March 6-7 – at FHSAA State Championships
It is great to be an Iowa Wrestling fan.
Go Hawks!