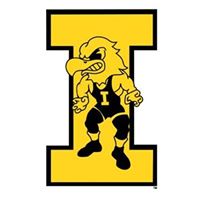 Caleb Rathjen of Ankeny, Iowa gave his verbal commitment to Iowa Wrestling on November 8.  Rathjen won a 3A state title last season at 126 and placed second as a freshman at 113. With a 61-3 record and a member of the Sebolt Wrestling Academy, the credentials are certainly there.  Rathjen is a member of the Iowa Wrestling Recruiting Class of 2021.
Rathjen will see plenty of tough competition in the always tough CIML Conference and in tournaments at Independence and Waterloo.
I was able to see Rathjen in the Iowa room last April.  It is easy to see that he is hardworking, aggressive, and always hustling.  Just the type of recruit that Iowa Wrestling goes after. Rathjen is also a tough defensive back for the Ankeny football team and had a real good season.  Rathjen is projected to compete at 149/157 for the Hawks.
I will bring you a blog every Friday during the season to let you know where our recruits will be competing and a follow-up blog with results.
Ankeny High School
Dec 5 – at Mason City
Dec 6-7 – at Independence Invitational
Dec 12 – DM Lincoln, Southeast Polk
Dec 14 – at Johnston Invitational
Dec 19 – Ankeny Centennial
Dec 20-21 – at Battle of Waterloo
Jan 3 – at Ames
Jan 9 – at Urbandale
Jan 11 – at Ames Invitational
Jan 16 –  Johnston
Jan 18 – Bob Sharpe Invitational (Ankeny)
Jan 23 –  Dowling Catholic
Jan 25 – Dave Ewing Duals (Ankeny)
Jan 31 – at CIML Conference Tournament
Feb 6 – at Marshalltown
Feb 15 – at Districts (Dallas Center-Grimes)
Feb 20-22 – at State
It is great to be an Iowa Wrestling fan.
Go Hawks!