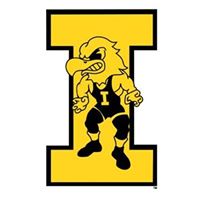 There has been quite a bit of talk about the Class of 2022 in Iowa for several years already.  In junior high this class was turning heads with the level of wrestling that fans around Iowa were seeing.  With nearly half of high ranking recruits in the class of 2021 giving a verbal commitment to a college before they even wrestled a match in their junior season, it is definitely time to be looking at the Class of 2022.
I do not have to travel very far to see elite recruits in Iowa in the Class of 2022.  Last Thursday I went to Solon, Iowa to watch my hometown of Lisbon compete in a dual meet against Solon.  West Delaware was also there to wrestle Solon. West Delaware is ranked #1 in 2A, Lisbon is #2 in 1A, and Solon is ranked #6 in 2A.  That was a lot of competition in one gym.
I went early to watch Solon and West Delaware meet before Lisbon wrestled.  Along with watching Lisbon compete I also wanted to see a wrestler from Solon and West Delaware compete.  I was not disappointed.
Each school had a sophomore that looked like a sure fire prospect for the Recruiting Class of 2022.
My hometown of Lisbon, Iowa has been very successful in putting wrestlers in Division I especially over the last several years.  In my opinion there isn't a better coach than Brad Smith and he knows how to prepare wrestlers for D-I. Lisbon has produced Carter Happel to Iowa in 2016, Nick Williams to Arizona State in 2016, Cobe Siebrecht to Iowa in 2019, and Cael Happel has signed with Northern Iowa in the Class of 2020.  You can add on Robert Avila in the Class of 2022 as a top prospect for a D-I college recruit.
It was pretty easy to see right away that Avila had the potential last season when he won a state title at 126 lbs. with a 55-1 record.  Avila was a Cadet All-American in Greco Roman when he placed sixth at 126 in 2018 and seventh at 132 last summer. I was impressed with Avila at the Iowa Wrestling Camp last April.  In a room full of tough wrestlers from around the country, Avila more than fit in as a freshman. Avila really looks like he will be college ready when he hits a college campus in the fall of 2022 at 141/149. 
I knew Hayden Taylor of Solon was already really good last year, but he had a match that certainly caught my eye.  In the State semifinals, Taylor scored a 15-0 tech fall at 126 lbs. over a senior defending state champion. That will certainly get your attention. Taylor went on to win the state title at 126 lbs. with a 51-2 season record.
Taylor is now at 145 and having a great year.  He won the 145 lbs. title at the Independence Invitational against national caliber competition with a 6-0 record and three pins.  It would be a guess as to what weight Taylor will be at in college. He could end up a high as 174. Whatever weight Hayden Taylor ends up at, he certainly looks like a D-I recruit to me.   
I heard about Wyatt Voelker of West Delaware about this time last year and was able to follow him this summer in freestyle.  Voelker was 35-11 last season and placed fourth at 170 lbs. as a freshman. This summer, Voelker was an All American in Cadet Freestyle (6th place at 195) and Cadet Greco-Roman (4th at 182).  Voelker is currently ranked #1 at 195 in 2A.  
Voelker looks like a D-1 Prospect for 197.  As young as he is, he could possibly become a Hwt. This is a strong wrestler that has the fire you like to see at a weight that does not produce a lot of recruits nationally.  Lot of potential here as a college wrestler.
All three of these sophomores have improved quite a bit physically over the last year.  They all look to be on track to be very good recruits. With the current trend of a majority of recruits committing before they wrestle a match in their junior season, the recruiting games are on.  
There is a lot of talk around Iowa that the Class of 2022 will be a special one.  There is talent across the state that are sophomores this season. It will be interesting to see how this class develops over the rest of their high school career.  I will have at least three members of that class close to home to keep an eye on. Lisbon may have another one on the way for the Class of 2023. I'll let you know.
It is great to be an Iowa Wrestling fan.
Go Hawks!