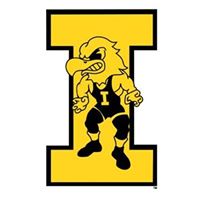 The Iowa Hawkeyes have looked very good so far this season,  The Hawks are 4-0 in a schedule that included three ranked teams.  I had a blog after the Wisoncin meet about the advantage Iowa had in takedowns.  Now let's take a look at all four dual meets.
Iowa has a takedown total of 119-18 over their first four opponents.  Iowa is averaging 29.75 takedowns per dual meet and surrounding only 4.5.  Especially when you factor in the quality of competition, that is impressive statistics. 
Dual meet scores: Iowa 39-0 over UTC, Iowa 29-6 over #11 Iowa State, Iowa 32-3 over #6 Wisconsin, Iowa 30-9 over #13 Princeton.
Takedowns
Iowa 32 – Tennessee-Chattanooga 6
Iowa 28 – #11 Iowa State 4
Iowa 22 – #6 Wisconsin 3
Iowa 37 – #13 Princeton 5
Total: 119-18
I need to keep track of who gets the first takedown and first period takedowns.  I must admit that I get too excited to keep stats like that, but I will try. Wrestling does not have nearly as many statistics as football, basketball, and baseball.  I believe takedown statistics are very important to keep track of.
Iowa is getting more first period takedowns in the close matches and that of course has led to Iowa winning those close matches. Austin DeSanto, Alex Marinelli and Michael Kemerer have been scoring machines with takedowns.  Spencer Lee gets one takedown and proceeds to tech fall his opponents so I will cut him some slack on the low takedown totals.   
The Hawks are in action next at Midlands on December 29-30 before heading into a tough stretch of dual meets. With the way takedowns are going their way, Iowa is set to have a great year.
It is great to be an Iowa Wrestling fan.
Go Hawks!