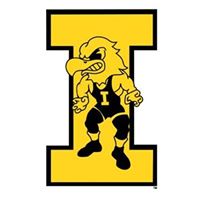 The second big weekend of the year is here for our incoming recruits.  The toughest competition for our recruits will be Wyatt Henson competing at the Ironman in Ohio.  This is the toughest regular season tournament in the country every year. Iowa Assistant Coach Ryan Morningstar has been going to this tournament for years for a reason and will be there. FloWrestling is covering the Ironman live.
Cullan and Colby Schriever and Caleb Rathjen will all be competing at the Johnston Invitational in Johnston, Iowa. With the Schrievers, Rathjen, and Gabe Christenson all being in the same conference and class, there will be times this season where several incoming Hawks will be competing at the same tournament. 
I will post results as they become available.  I am very dependent on TrackWrestling for results.  If you have any way to help in getting me results for our recruits, please drop me a line at: iclius10@gmail.com. Thank you.
Recruiting Class of 2020
Patrick Kennedy – Kasson-Mantorville, MN 170 lbs. 
At Triton (dual meet) – Dec 13
Cullan Schriever – Mason City, Iowa 126 lbs. 
At Johnston Invitational – Dec 14
Colby Schriever – Mason City, Iowa 145 lbs. 
At Johnston Invitational – Dec 14
Jesse Ybarra – Tucson, AZ (Sunnyside HS) 120 lbs. 
No competition scheduled.
Gabe Christenson – Runnells, Iowa (Southeast Polk HS) 195 lbs.
At Western Dubuque Invitational – Dec 14
Leif Schroeder – Bozeman, Montana  138 lbs.
At Mining City Duals – Dec 14
Bretli Reyna – Homestead, Florida (South Dade HS)  145 lbs.
District 16 Duals – Dec 13-14
Recruiting Class of 2021
Wyatt Henson –  Waynesburg, Pennsylvania 132 lbs.
At Ironman Dec 13-14
Cam Lucero – Pagosa Springs, Colorado  145 lbs.
At Columbine Invitational – Dec 14
Caleb Rathjen – Ankeny, Iowa  138 lbs.
At Johnston  Invitational Dec 14
It is great to be an Iowa Wrestling fan.
Go Hawks!