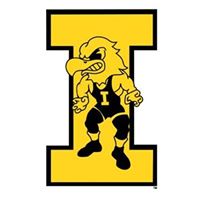 Leif Schroeder of Bozeman, Montana was another in a great group of recruits that visited Iowa on Homecoming weekend on October 19 that soon became a Hawkeye.  After his visit to Iowa, Schroeder canceled his planned visit to Minnesota the following weekend and committed to Iowa on October 25. Schroeder is in the outstanding Iowa Wrestling Recruiting Class of 2020.
Schroeder has won a state title in each of his first three years of high school with last year's title being at 132 lbs.  He will be aiming for a title that would put him in elite company with Great Falls, Montana turned Iowa Hawkeyes Bill and Mike Zadick as a rare four-time Montana state champion.
Leif has an older brother Bjorn Schroeder that is a redshirt sophomore at 141 for Purdue.  I always like it when a recruit comes from a wrestling family. While researching Schroeder after he signed, I came across an article stating how Bozeman is a state power that expects to win the state title every year.  That is the type of background that you like to see. It looks like he may be at 145 this season. With his frame, I project that Schroeder will be at 149/157 for the Iowa Hawkeyes.
I will bring you a blog every Friday during the high school season to let you know where our recruits are competing and a follow-up blog with results.
Bozeman High School
Dec 7 – at Park & Helena
Dec 10 – CMR
Dec 13-14 – at Mining City Duals 
Dec 17 – at Great Falls
Dec 20-21 – at CMR Tournament
Jan 3-4 – Tom LeProwse Battle in the Bridger
Jan 7 – at Helena
Jan 18 –  at Dillon Duals
Jan 25 – at AA Duals in Great Falls
Jan 28 –  Belgrade
Feb 1 – at Billings/Sydney/Bozeman
Feb  8 – at Divisionals (Belgrade)
Feb 14-15 – at State
It is great to be an Iowa Wrestling fan.
Go Hawks!