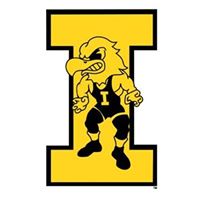 It is Midlands time.  A part of any holiday season for Iowa Wrestling fans is to follow the Hawks at the legendary Midlands Championships.  Forty-three teams will do battle in what is always a tough tournament. 12 of the top 25 teams and four of the top nine in the NWCA Coaches Poll will provide plenty of competition and entertaining matches.  Competition begins Sunday at 9:30 AM and the finals are scheduled for 7 PM on Monday. 
The press release from Iowa shows that the Hawks will send twenty-three wrestlers to compete at Midlands. Spencer Lee will be competing.  I was unsure of that after Lee competed at the U.S. Nationals last weekend. Lee will be looking to win his first Midlands title. 
For Iowa fans, the weight to keep an eye on is 184.  This is the one weight that I do not know who is going to take the mat at Big Tens in March in the Black and Gold.  Nelson Brands and Cash Wilcke have both seen action in the starting lineup this year. Brands is ranked tenth in the country. 
True freshman Abe Assad (184) and Zach Glazier (197) will be making their debut in a prime time tournament.  Both are redshirting and having a very good season. Assad is 11-2 and has placed first, second, and third at tournaments.  Glazier has been tearing it up by winning three tournaments with a 14-0 record with bonus points in all but one match that was a 7-1 decision. Midlands will be a big step up in competition for both wrestlers.
I am looking forward to seeing Gavin Teasdale at 133, a very competitive weight.  A match between Pat Lugo and Vince Turk at 149 may happen. Lugo is ranked third in the country, but Turk is a tough senior that represented Iowa at the 2018 NCAA Tournament at 141.  If Turk is going to make a move for the top spot in the lineup at 149, this would be it.  
Overall for the tournament, 133 and 165 should provide the biggest matches. Iowa should be seeded #1 in both weights with DeSanto and Marinelli. We will see a return of Michael Kemerer at Midlands where he won titles in 2016 and 2017 at 157.
The finals will not be on BTN this year.  The only way to watch all of the matches will be online at BTN Plus and FloWrestling.  Both have a required premium subscription. There is an option to pay $9.95 for one month of BTN Plus to follow all of the action at Midlands and all of the Iowa meets for a month at btnplus.com.  800 AM KXIC will have live audio coverage available on iHeartRadio.com.
Hawks competing at Midlands
Spencer Lee – 125
Aaron Cashman – 125
Austin DeSanto – 133
Paul Glynn – 133
Gavin Teasdale – 133
Max Murin – 141
Carter Happel – 141
Justin Stickley – 141
Pat Lugo – 149
Vince Turk – 149
Kaleb Young – 157
Jeren Glosser – 157
Alex Marinelli – 165
Jeremiah Moody – 165
Michael Kemerer – 174
Cash Wilcke – 184
Nelson Brands – 184
Abe Assad – 184
Jacob Warner – 197
Zach Glazier – 197
Connor Corbin – 197
Anthony Cassioppi – Hwt.
Aaron Costello – Hwt.
Midlands schedule
Sunday, Dec. 29
Session I – 9:30 AM
Session II – 7 PM
Monday, Dec. 30
Session III – 12 PM
Session IV – 7 PM
*Times listed are CST
It is great to be an Iowa Wrestling fan.
Go Hawks!