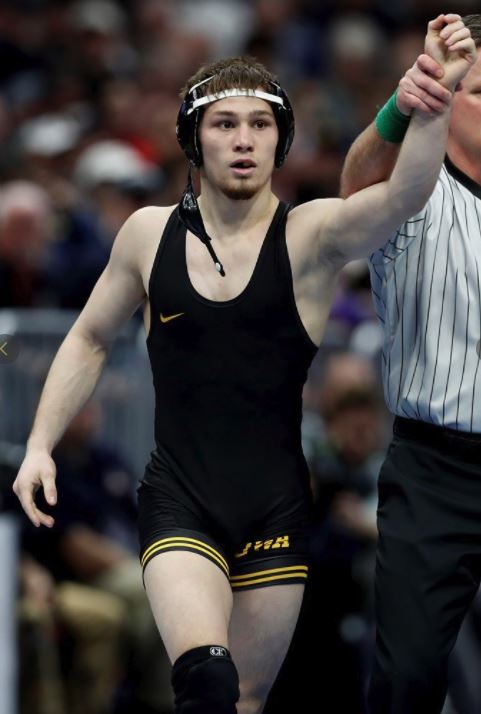 I am running out of ways to describe Spencer Lee.  It was nearly two years ago that I came up with the phrase: Spencer Lee is…Spencer Lee.  That was my way of saying that I have never seen anything like him. Lee added to his status with his performance this weekend.
After winning three World titles in the Cadet and Junior level, this was the first competition Lee has competed in at the Senior level.  Lee dominated the competition in winning the 57kg title at U.S. Nationals. I would say that was the best version of Spencer Lee that I have ever seen. The way that Lee can be so intense and yet be in control. In my book "Domination: An Inside look at Iowa Wrestling," I described Tom and Terry Brands style as "Controlled Mayhem."  Heavy Hands was how they won matches. Lee showed some serious Heavy Hands by controlling the ties, positions, and tempo of each match.
Lee can be in a strategic match and then absolutely explode.  A match will be going along and then all of the sudden Lee scores 4 points or more in a hurry.  A close match is over soon with a tech fall. He can get himself in a position and score points and a lot of them so darn quick.  
The impact of what Lee did in Ft. Worth, TX this weekend at U.S. Nationals will have an impact on the 2020 NCAA Championships in Minneapolis, MN.  Any doubt about who the best college wrestler in the country was before this weekend has been removed. For Tom Brands to lead his team into the NCAA's with the best wrestler in the country is huge.  
I will flatter myself and say that Dan Gable told me several times over the years about the importance of entering nationals and having the best wrestler in the tournament.  If Gable says it is a big advantage, that is all that I need to know.
Spencer Lee leads by example.  I just have to think that the way that Lee dominated his competition by shutting them down and racking up points on his feet and on the mat had to send a message to the Iowa program of how it is done.  Also being the first weight into battle at Nationals, Lee has the ability to set the tone and momentum for not only his team, but for the entire tournament.
Even though the Olympics is the ultimate in our sport of wrestling, Lee looks to be a great teammate that wants the NCAA team title to come back to the University of Iowa where it belongs.  Iowa Wrestling has a close team and Lee is the face of the program. The success from this weekend will help the Hawks in March when the team title is on the line and Spencer Lee has the lead.
Is it March 21, 2020 yet?
Let's get 'em in the middle.   
It is great to be an Iowa Wrestling fan.
Go Hawks! 
Results from U.S. Nationals
57kg
Spencer Lee (HWC) over Jacob Moran (Unattached) VSU 10-0
Spencer Lee (HWC) over Shane Kim (Kwik) VSU 10-0
Spencer Lee (HWC) over Darian Cruz (NYAC) VSU 10-0 
Spencer Lee (HWC) over Vitali Arujau (TMWC) VSU1 14-4
Spencer Lee (HWC) over Nathan Tomasello (TMWC) VPO1 8-2
*****Spencer Lee qualifies for Olympic Team Trials.