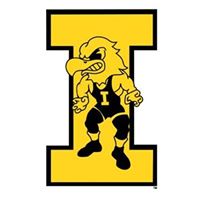 Iowa Wrestling hosted recruits over Homecoming weekend on October 19.  That proved to be a great recruiting weekend as the Hawks gained several commitments following the visits.  The first to commit from that weekend was Wyatt Henson when he committed on October 20. Henson was also the first commitment of the Iowa Wrestling Recruiting Class of 2021.
Henson won a state title for Christian Brothers in the St Louis area last season as a sophomore.  This season Henson has returned to Waynesburg Central High School in Pennsylvania where placed fifth as a freshman. Waynesburg Central has to have one of the tougher schedules in the entire country.  Regular season tournaments like the Ironman, Beast of the East, and Powerade and then finishing up with AAA Pennsylvania State Tournament is a tough, tough schedule.   
Henson has placed third in both Cadet and Junior Nationals in freestyle.  I look for Henson to continue to improve over the rest of his high school career and to be a highly rated recruit by the time he arrives at Iowa in the Fall of 2021.  Henson is rated in several publications at seventh and eighth in national ratings at 138 lbs. and is projected to compete at 141 for the Hawks.
I will bring you a blog every Friday during the season to let you know where our recruits will be competing and a follow-up blog with results.
Waynesburg Central High School
Dec 11 – at Montour
Dec 13-14 – at Walsh Jesuit Ironman
Dec 18 – Moon
Dec 21-22 – at Beast of the East
Dec 27-28 – at Powerade
Jan 3-4 – at TRICADA Tournament
Jan 6 – Chartiers Valley
Jan 9 – Connellsville
Jan 10-11 – at Winners Choice Tournament
Jan 15 – at Trinity
Jan 22 – WPIAL AAA Section Team Tournament
Feb 22 – at District 7 AAA Section 4
Feb 28-29 – at South West AAA Regional
March 5-7 – at PIAA AAA Championships
It is great to be an Iowa Wrestling fan.
Go Hawks!