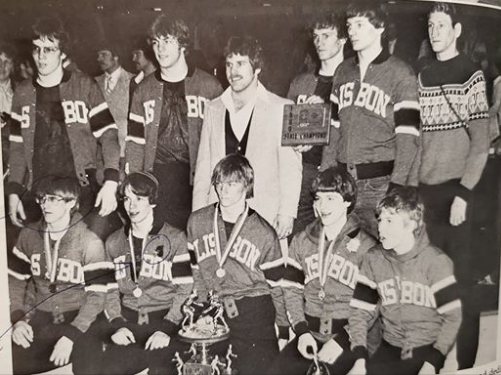 Lisbon, Iowa has a great night of wrestling planned for Thursday, January 30. #2 Lisbon will host #1 Don Bosco in a premiere dual meet for the entire state of Iowa.  In the most recent 1A ratings by The Predicament, Don Bosco has ten wrestlers ranked and Lisbon has nine ranked wrestlers out of fourteen weights.  I have to wonder if that is a state record for Iowa to have 19 ranked wrestlers in one dual meet. The Lisbon-Don Bosco dual meet has been a tradition of great wrestling for decades. 
The dual meet will have a break half-way through like in a televised college dual meet.  After seven matches, Coach Brad Smith and the Lisbon 1980 State Championship team will be introduced.  All Lisbon Wrestling alumni will also be recognized. The 1980 1A State title team was the first state title won by Coach Smith.  Coach Smith has won more state titles and more dual meets than any coach in Iowa High School Wrestling history and has also been named as the National Coach of the Year twice in his career. What a great source of pride to have my hometown of Lisbon, Iowa being such a huge part of those records.
Coach Smith won the 149 lbs. NCAA title in 1976 for the University of Iowa and was a member of the first national title winning team to begin the Iowa Wrestling dynasty.  Smith has went on to be the most successful wrestling coach to ever wrestle for the University of Iowa. You could make a case that Smith is the most successful coach that the University of Iowa has ever produced for any sport.
There were Iowa Wrestling greats at Coach Smith's first home dual meet in December of 1978.  I remember it well because I got an autograph from Randy Lewis. I am hoping we see some of those very wrestlers and maybe some coaches show up Thursday night.
There will be a social gathering at Regal Crown across the tracks in Lisbon following the dual meet.  All wrestling fans are welcomed to come and enjoy great memories of Lisbon Wrestling.
I have heard of former Lisbon wrestlers that will be traveling from across the country to be at this celebration.  I have also heard that this type of celebration may occur every year to honor the many state title winning teams of Lisbon's past.  I really hope this becomes a yearly event.
I am expecting an overflow crowd so you may want to show up early to get a seat.
Thursday, January 30 
Event schedule:
4PM: Public tour of the building.
5:30PM: Weigh-ins.
6:30PM: Senior Night introductions and wrestling begins: #1 Don Bosco vs. #2 Lisbon
Intermission after 7 matches: Introduction of Coach Brad Smith, the 1980 State Championship team, and all Lisbon alumni wrestlers who are present.
After the meet, all are invited to the Regal Crown in Lisbon for a social gathering.
It is great to be an Iowa Wrestling fan.
Go Hawks!