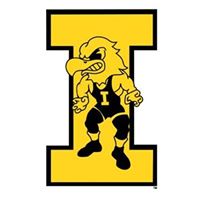 Aaron Meyer has been selected as a nominee for the 2020 Wayne Duke Postgraduate Scholarship. Meyer was one of two student-athletes selected to represent the University of Iowa for this prestigious award.
From the Big Ten:
The Wayne Duke Postgraduate Scholarship, which is for $10,000, is awarded to two senior Big Ten student-athletes (one male; one female) for exceptional achievement in academics, athletics, and civic service. Each institution nominates two student-athletes. The winners will be announced March 14, 2020.
Meyer, a redshirt senior at 141 lbs. from Pleasant Hill, Iowa (Southeast Polk HS) has been a Letterwinner for the Iowa Hawkeyes the last three seasons.  He has been named to the Dean's List for the last two years, Academic All Big Ten the last three years, and a 2019 Big Ten Distinguished Scholar.  
Meyer graduated with a degree in Health and Human Physiology in May of 2019.  This July Meyer will attend Palmer College of Chiropractic. 
Wayne Duke, who the scholarship is named for, was originally from Burlington, Iowa and a graduate of the University of Iowa. He was Commissioner of the Big Ten (1971-1989) and Commissioner of the Big Eight (1963-1971).  
It is great to be an Iowa Wrestling fan.
Go Hawks!