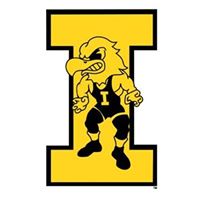 The Iowa Hawkeyes are on the road this weekend with two Big Ten dual meets.  This is the only weekend of the season when Iowa has two opponents on the road.  You will be able to watch both meets on the premium service for FloWrestling and BTN Plus and listen to Steven Grace and Mark Ironside on the radio. Iowa will face Indiana on Friday at 6 PM.  Indiana does not have a ranked wrestler.  
On Sunday, Iowa will face eighth ranked Purdue at 3 PM.  Purdue is led by head coach Tony Ersland of Humboldt, Iowa who wrestled for Iowa and was a member of three NCAA title teams in 1995-1997.  Ersland has built Purdue up to a top ten program and there will be some great matches with highly ranked wrestlers.  
#1 ranked Spencer Lee will face #5 ranked Devin Shroder at 125 and #1 Pat Lugo vs.#14 Griffin Parriot at 149.  It will be #4 Kaleb Young vs. #6 Kendall Coleman at 157, #2 Michael Kemerer vs. #4 Dylan Lyndy at 174, and at 197 it will be #5 Jacob Warner vs. #2 Christian Brunner.
This will be the highest ranked wrestler that Lee, Young, and Kemerer have faced this season and the second time Warner has faced the #2 ranked wrestler in the country. I am especially looking forward to seeing Kemerer against a highly ranked wrestler.  Every single match is important in the Big Ten for seedings at the Big Ten Championships. These matches against highly ranked wrestlers are even more important when you look at how deep the Big Ten is with talented and ranked wrestlers.  
It is rare to see Iowa list three wrestlers at a weight but that is what we have with Wilcke, Brands, and Assad at 184.  I would be real surprised to see Assad burn his redshirt as a true freshman and be put into the starting lineup. I have no idea who will wrestle at 184 between Wilcke and Brands. Maybe we see them both wrestle a match this weekend. 
You can count on Purdue to battle in every match and provide some entertaining wrestling.  You will want to watch or listen to this dual meet. I will have Grace and Ironside on the radio and the dual meet on my computer with the sound turned off. There is always a delay between the wrestling on the radio and the computer, but it is worth it to hear Ironside. I am really looking forward to this dual meet.
Iowa at Indiana – 6 PM CST Friday, January 10
Iowa at Purdue – 3 PM CST Sunday, January 12
Both meets are on FloWrestling and BTN Plus premium service.  Also on AM 800 KXIC on iHeartRadio with Steven Grace and Mark Ironside.
Iowa #1
125  #1 Spencer Lee
133  #2 Austin DeSanto
141  #5 Max Murin
149:  #1 Pat Lugo
157  #4 Kaleb Young
165  #2 Alex Marinelli
174  #2 Michael Kemerer
184  #11 Cash Wilcke or Nelson Brands or Abe Assad
197  #5 Jacob Warner
Hwt  #4 Tony Cassioppi
Indiana
125  Liam Cronin
133  Jonathon Moran or Cayden Rooks
141  Eddie Bolivar
149  Graham Rooks
157  Fernando Silva or Joey Sanchez
165  Davey Tunon or Dillon Hoey
174  Jacob Covaciu
184  Jake Hinz
197  Nick Wilham or Spencer Irick
Hwt  Rudy Streck or Jake Kleimola
Purdue #8
125  #5 Devin Shroder
133  Travis Ford-Melton
141  Parker Filius
149  #14 Griffin Parriot or Nate Limmex
157  #6 Kendall Coleman
165  Tanner Webster
174  #4 Dylan Lyndy
184  Max Lyon or Jared Florell
197  #2 Christian Brunner
Hwt  Thomas Penola or David Eli
It is great to be an Iowa Wrestling fan.
Go Hawks!