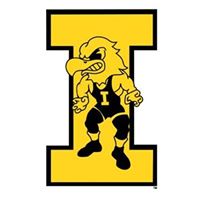 The University of Iowa Wrestling program announced that that they will distribute #SorensenStrong headbands to the first 3,000 fans through the doors at Carver-Hawkeye Arena for the Iowa-Nebraska dual meet on Saturday, January 18.
Four-time All American Brandon Sorensen is battling acute lymphoblastic leukemia and is undergoing treatment.  The #SorensenStrong headbands are a symbol of support.
Former Iowa wrestler Jeret Chiri designed the red, white, and blue headbands and are being distributed in a partnership with ThinkIowaCity.com.  For more information on the headbands, go to: SorensenStrong.org.
A GoFundMe account was set up when the news of Brandon's illness was announced.  You can still show your support at:
https://www.gofundme.com/f/c4zzv-sorensenstrong?utm_source=customer&utm_medium=sms&utm_campaign=p_cf+share-flow-1
Prayers to Brandon Sorensen in his battle.
It is great to be an Iowa Wrestling fan.
Go Hawks!