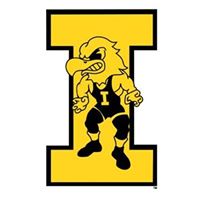 When you hear about one of your boys tackling the legendary Iditarod Trail…on a bicycle in the Alaskan winter, you take interest.  When I heard that he is also raising money for the Hawkeye Wrestling Club while on his 1,000 mile journey, I had to write a blog about him. I feel as though a blog to introduce you to my friend Steve Cannon is way past due.
I would like to be the one to tell you a little bit about Steve Cannon so you know that he is legit as an Iowa Wrestling fan and supporter and as a badass.
I have known Steve Cannon since 1984.  "Canjo" is a nickname that has endured the years for Steve.  You see calling each other by first name is a real grind among The Boys of the Old School.  I simply cannot keep referring to him in this blog as Steve. Can't do it. Canjo lived across the hallway in Hillcrest from Rodney Sullivan (from my hometown of Lisbon, Iowa).  Canjo was also a roommate of mine at Iowa along with Sully (Rodney Sullivan) and the late Mike "Flounder"Torner (RIP and God Bless Flounder) at the well known Beach House in Iowa City during the '87-'88 school year.
Even though Canjo had played basketball and other sports growing up in Mediapolis, Iowa, about 65 miles from Iowa City, he took a quick interest in Iowa Wrestling in college at Iowa.  Royce Alger, also from Lisbon, was a year older and coming off of his redshirt season for Dan Gable and the Hawks. Canjo was one of the guys in face paint at the Iowa-Iowa State dual meet in Carver back in the day in my book Domination: An Inside look at Iowa Wrestling.
Canjo had been active in sports as a kid growing up, but he did not workout much during his college years.  Even though he had been a roommate several years earlier, I really got to know Canjo in the Iowa Wrestling weight room. We would workout at the end of and after an Iowa Wrestling practice. When I say that Canjo started at ground zero from a physical fitness standpoint, I am being honest. He was in bad shape.  It all started with heavy weight lifting and then eventually jogging around the Iowa wrestling mats.   
When you hear about the amazing feats of endurance that Canjo does from riding and pushing his bike on the Iditarod Trail, running across the state of Iowa and in nearly 100 marathons, competing in the world's longest kayak race, and running over 1,000 miles around Lake Michigan, his training and journey started with lifting heavy weights and jogging in the Iowa Wrestling room in the early 90's.
A documentary of Canjo's race last year on the Iditarod Trail was made into a documentary: 1,000 Miles to Nome.  That documentary won an award at the Docs Without Borders Film Festival.  Canjo has also written several books about his adventures of running, biking, kayaking, and adventure racing and does motivational speaking across the country.
This blog was not intended to be a sales pitch.  As I mentioned earlier I wanted to let you know as a reader that Canjo is a legitimate Iowa Wrestling fan and supporter and a true badass. I will also add that he is a friend of mine and I really enjoy following his journey on Facebook and Twitter. When he will make a post about a race he is competing in or his training, I like to leave a simple response for him: Old School Lives.  
At nearly 54 years of age, Canjo is out there competing in unbelievable endurance races in the worst of conditions that Mother Nature has to offer because he wants to test himself in a competition against himself out in nature.  I truly respect that. 
Starting tomorrow, March 1, Canjo will peddle and push his bike 1,000 miles through the Alaskan wilderness to Nome in a race designed for a dogsled team.  When I saw that Canjo camped out overnight in -42 below temperatures to train and toughen up for this race, I knew it was serious.  Canjo still makes his way into the Iowa Wrestling room for a workout to prepare for competitions like this.  I will be following Canjo online throughout the race and wish him nothing but the best of luck.
Canjo is helping raise money for the Hawkeye Wrestling Club with his race this year on the Iditarod Trail. To donate to the HWC and be a part of Canjo's quest to conquer the 2020 Iditarod Trail on his bike for a second consecutive year:
https://donorbox.org/iditarod-2020
To read more about Canjo with his travels and competitions and to order his books and documentary that I highly recommend:
https://www.expandyourpossible.com/
https://twitter.com/xpandurpossible
https://www.facebook.com/expandyourpossible
Old School Lives.
It is great to be an Iowa Wrestling fan.
Go Hawks!