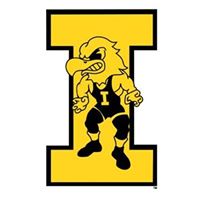 Incoming Iowa Wrestling recruit Gabe Christenson has been chosen to represent the USA All-Star Team at 195 lbs. in the Pittsburgh Wrestling Classic. Team USA will compete in a dual meet against a team of Pennsylvania All-Stars that has yet to be named.  The dual meet will be in the Fitzgerald Field House on the campus of the University of Pittsburgh (PA) on Saturday, March 14 at 5 PM CST.
Christenson, from Runnells, Iowa (Southeast Polk HS), won a 3A state title at 195 last season and will be competing in State Duals and the Iowa High School State Tournament over the next four days.  Christenson is ranked as high as fifth in the country at 195 this season. Christenson is a member of the outstanding Iowa Wrestling Recruiting Class of 2020.
The Pittsburgh Wrestling Classic used to be called the Dapper Dan and has been a great tradition since 1975.  This meet is called: "The Rose Bowl of Wrestling." It is an honor to be invited to compete in this dual meet.
Olympian Ben Askren will be the Honorary Coach for Team USA.
It is great to be an Iowa Wrestling fan.
Go Hawks!