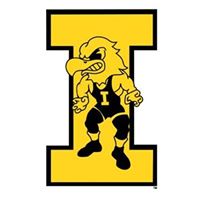 The last four weeks have gone by quickly for Iowa Wrestling fans.  Iowa has looked very good all season and even better since the first of the year.  Iowa has faced off against the top teams in the country and have come out on top. It is time to do an update and take a closer look at the Hawks.
125 – Spencer Lee is…Spencer Lee.  I will keep saying that because there really isn't anything else I can say.  As a fan I am enjoying every match of his career.  
133 – Austin DeSanto has been out of the lineup since the Penn State meet.  He is still rated #3 in all of the rankings. I have no news to report here except that I hope DeSanto comes back strong and I am confident that he will.  Paul Glynn has done a good job filling in at 133.
141 – We have not seen Max Murin since the Nebraska meet on January 18.  After facing the #1 and #2 ranked wrestlers in the country, Carter Happel has had two nice wins at 141 on the road against Michigan State and Michigan.  The question here is will we see Murin before Big Tens?
149 – You never want to drop a match.  However, I firmly believe Pat Lugo is better after that setback against Ohio State. I like Lugo in the rematch by the way.  Lugo looks to be very confident right now and that is great news and what I am banking on with my evaluation. With a ranking of 4/2/1 in the Track/InterMat/WIN rankings, Lugo will not sneak up on anyone at the NCAA's. Looks like a senior on a mission. Again, love his confidence this year.
157 – After watching the workmanlike manner in which Kaleb Young defeated #8 Will Lewan of Michigan 7-3 Saturday night, it occurred to me that he reminds me of Brandon Sorensen. Young has the consistency, grind it out type of style, toughness, conditioning, and mentality of a Sorensen.  You can always count on Young giving you his best effort in the room and in competition. I will call it now that Kaleb Young will have a great NCAA Tournament. I would not bet against him when the title is on the line.
165 – The first regular season loss in his career does not affect me one bit when it comes to #2 Alex Marinelli.  Bull is right on track and I like the rematch. The emphasis is on finishing strong at Nationals and that is what I expect to see out of Marinelli.  Finishing the season strong Bull.
174 – Michael Kemerer not only took over the top spot at 174, he did it in impressive fashion.  You do not see Mark Hall give up a reversal and three takedowns in a match, well, ever. Kemerer is looking very strong and I would say he has worked himself into shape after a year off and going up two weight classes. Damn, Michael Kemerer is tough.
184 – I did not see Abe Assad burning his redshirt to compete this year coming. Assad has looked very good and is right in there to compete for All American status.  The setback at Michigan State will pay off for Assad because that is the type of match he will see at Nationals. Look for adjustments to be made. Assad will get a lot better between now and the NCAA Wrestling Championships on March 19-21. Ton of potential here for a high placing this year.
197 – The first takedown that Jacob Warner had against Michigan State brought me out of my chair.  He basically ran right over the guy.  That is the explosiveness, aggression, power, and speed that I know Warner has. I will keep telling you that we have not seen all that Warner has to offer offensively.  Jacob Warner has a deep arsenal of ways to score on the feet. It is a matter of seeing Warner let it fly but with control, timing, and technique in the big matches. It is about peaking at Nationals and letting it fly.   
Hwt – I said before the season that Tony Cassioppi was the type of wrestler that would learn from his setbacks and be a better wrestler by the time Big Tens roll around.  I will still stand by that. Look for Cassioppi to keep improving and to be more than ready to make a deep run at Nationals.  This guy will score a lot of points for us at Nationals.
For as good as Iowa has looked this season, I firmly believe that they have not peaked.  I believe what I hear when Iowa wrestlers talk about getting the job done at Nationals.  That is the focus. Sometimes we as fans get too caught up in one specific situation that is just part of the journey.
I am confident that we have not seen the best version of the 2020 Iowa Wrestling team.  Iowa is on track, getting better, and I believe we will continue to see that between now and Nationals. 
Let's get 'em in the middle.
It is great to be an Iowa Wrestling fan.
Go Hawks!