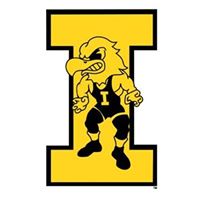 The top ranked Iowa Hawkeyes return home to Carver-Hawkeye Arena to host #5 Minnesota on Saturday, February 15 at 8:30 PM.  You can always, and I mean always count on a competitive and entertaining dual meet between Iowa and Minnesota. These programs will get after each other and that will result in some very entertaining wrestling.
I really hope they start the dual meet at 125 because the biggest matchup is at Hwt between #3 Tony Cassioppi and #1 Gable Steveson. This will be the second dual meet in a row that Hwt will be the featured bout. 149 will be a big match between 4/2 Pat Lugo vs. 5/7 Brayton Lee.  At 174 #1 Michael Kemerer will face #8 Devin Skatzka.  Another anticipation for this dual is to see if Austin DeSanto(133) or Max Murin(141) return to the lineup.   
The dual meet will get under way at 8:30 PM because it is a part of a doubleheader of meets on BTN.  Ohio State-Penn State is at 6 PM followed by Iowa-Minnesota. I believe the late start will actually really help the crowd size.  Saturday is Districts across the state of Iowa for high school wrestling. The late start will give Iowa high school wrestling fans enough time to make the drive after Districts to Carver-Hawkeye for the big meet. I am expecting a big crowd that will be ready for some entertaining Iowa Wrestling.
There will be a HAWK Party after the Iowa-Minnesota dual meet at the Radisson Hotel in Coralville.  Tom Brands and the Iowa Wrestling staff are the special guests. The Radisson is at 1220 1st Ave. in Coralville just North of I-80 by Exit 242.  
#5 Minnesota at #1 Iowa – 8:30 PM CST on Saturday, February 15, 2020
TV: BTN with Tim Johnson and Jim Gibbons
Online: Hawkeye All-Access
Radio: AM 800 KXIC on iHeartRadio.com with Steven Grace and Mark Ironside.
125 1/1 Spencer Lee (Jr) vs. 13/13 Patrick McKee (Fr)
133 3/3 Austin DeSanto (Jr) or Paul Glynn (Sr) vs. Jake Gilva (Fr) or Boo Dryden (Jr)
141 8/9 Max Murin (So) or Carter Happel (Jr) vs. 4/4 Mitch McKee (Sr)
149 4/2 Pat Lugo (Sr) vs. 5/7 Brayton Lee (Fr) 
157 4/5 Kaleb Young (Jr) vs. Ryan Thomas (So)
165 2/2 Alex Marinelli vs. Bailee O'Reilly (So)
174 1/1 Michael Kemerer vs. 8/8 Devin Skatzka (Sr)
184 8/9 Abe Assad or Cash Wilcke (Sr) vs. 16/- Owen Webster (Sr) 
197 5/6 Jacob Warner vs. Hunter Ritter (Sr) or Garrett Joles (Fr)
Hwt 3/3 Tony Cassioppi vs. 1/1 Gable Steveson
Rankings: TrackWrestling/InterMat
It is great to be an Iowa Wrestling fan.
Go Hawks!