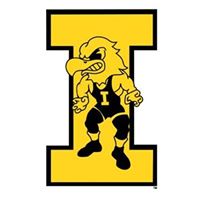 In a time honored tradition, the two most successful programs in the history of college wrestling will do battle once again.  #1 Iowa will host #8 Oklahoma State in legendary Carver-Hawkeye Arena at 7 PM on Sunday, February 23. BTN will provide live coverage. It is hard to believe this is the end of the regular season for Iowa Wrestling.
The biggest match of the day will be at 125 where Spencer Lee will have revenge on his mind against #4 Nick Piccininni, who pinned Lee in the dual meet last year in Stillwater.  Look for Lee to be more than ready to go.
The showdown at 149 will be very important for seeds at Nationals.  Pat Lugo will face Boo Lewallen. Lugo is ranked 4/2 and Lewallen is ranked 3/6 by TrackWrestling and Intermat. Another big match will be at 165 where #2 Alex Marinelli will face #7 Travis Wittlake.
Depending on which rankings you go by, Oklahoma State only has one wrestler ranked higher than Iowa and that is at 149 and by just one of the three rankings.  With the home mat advantage, it is safe to say that Iowa will be favored in all ten matches.
Do we dare think about the word shutout against Oklahoma State?  You bet we do. Oklahoma State is a bitter rival and you can always count on a great dual meet. The crowd in Carver will be really fired up wanting the shutout. I would like to point out that only the starters are listed in the Iowa lineup.  That tells me that Iowa plans on wrestling a full and healthy lineup.
Iowa is just a little more than 12,000 fans short of breaking the all-time attendance record from 2015-2016 that included over 42,000 fans at Grapple on the Gridiron.  You will have a chance to be a part of history.
The Iowa Wrestling NCAA Championship teams of 1995 and 2010 will be honored at the dual meet on Sunday.  The championship teams will be introduced at the halftime break in the dual meet. The reunion will begin at 5 PM in the Feller Club Room in Carver-Hawkeye Arena by the Gable statue and ticket office. All Iowa Wrestling alumni and fans are welcomed.
The Hawkeye Wrestling Club is hosting a social at Big Grove Brewery starting at 2 PM on Sunday.  HWC Head Coach Mark Perry and members of the HWC will be in attendance. I am sure that quite a few former Iowa wrestlers will be there as well. Big Grove Brewery is at 1225 S Gilbert St in Iowa City. 
What an amazing day of Iowa Wrestling for all of us fans.  I cannot wait.
#8 Oklahoma State at #1 Iowa – 7 PM CST on Sunday, February 23, 2020
TV: BTN with Shane Sparks and Jim Gibbons
Online: Hawkeye All-Access
Radio: AM 800 KXIC on iHeartRadio.com with Steven Grace and Mark Ironside.
125 1/1 Spencer Lee (Jr) vs. 4/4 Nick Piccininni (Sr)
133 3/3 Austin DeSanto (Jr) vs. 14/- Reece Witcraft (Fr)
141 4/5 Max Murin (So) vs. 12/- Dusty Hone (Jr)
149 4/2 Pat Lugo (Sr) vs. 3/6 Boo Lewallen(Jr) 
157 4/5 Kaleb Young (Jr) vs. 19/- Wyatt Sheets (So) or Jalin Harper (Fr)
165 2/2 Alex Marinelli (Jr) vs. 7/6 Travis Wittlake (Fr)
174 1/1 Michael Kemerer vs. 15/13 Joe Smith (Sr) or Andew Shomers (Fr)
184 8/9 Abe Assad vs. 14/- Anthony Montalvo (Fr) 
197 6/4 Jacob Warner vs. 19/16 Dakota Greer (Jr)
Hwt 3/3 Tony Cassioppi vs. Austin Harris (So) or Cornelius Putnam (So)
Rankings: TrackWrestling/InterMat
It is great to be an Iowa Wrestling fan.
Go Hawks!