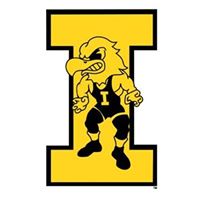 The Iowa Wrestling team captured their first outright Big Ten title since 2010.  I wanted to share a few thoughts about the 2020 Big Ten Wrestling Championships.
For starters, what great wrestling to watch.  The overall depth and high quality wrestling that took place at Rutgers was very entertaining.  I was impressed and at times amazed at how good the wrestling was in several of the weights. The overall depth of the Big Ten continues to improve and I expect that trend to continue.
A quick rundown of the team:
125: Spence Lee is…Spencer Lee. There is really nothing else I can say.  I really, really liked the way that Lee opened up his matches by intentionally releasing his opponents to get another takedown.  That really opened up his matches and created scoring opportunities for him for back points as well. He is making a takedown against tough competition look easier than any wrestler that I have ever seen compete. Spencer Lee is still getting better. A lot better.
133: Austin DeSanto placed fourth in the toughest weight in the Big Ten Tournament.  The mix of quality and quantity at 133 lbs. in the Big Ten is amazing. DeSanto dropped two matches to two highly ranked wrestlers. I look for DeSanto to wrestle better at Nationals.
141: Max Murin dropped a close match with time running out in the Quarterfinals and dropped a match in the Consolation Semifinals. Murin has improved quite a bit from last year but still has to improve to make the stand at Nationals.  I definitely believe Max Murin has the skill set to have a good showing at Nationals.
149: Pat Lugo looked like what I had written about him last week.  The look of a confident senior that is on a mission. Lugo looked confident and smooth in winning his first Big Ten title.  His takedown in the finals was a new move that I have not seen out of him in a big match. It is great to see Lugo evolve and continue to improve.  Pat Lugo is the man to beat at 149 lbs.
157: Kaleb Young was 0-2 for the Big Tens and did not place.  That is rare for a #2 seed. Young is eligible for an at-large bid so he can still make it to Nationals.  The announcement will be made tomorrow. With a #6 ranking in the most recent D-I Coaches Ranking and a strong RPI ranking, I am hoping Young will get a bid to Nationals.
165: Alex Marinelli vs.Vincenzo Joseph of Penn State is always a great match to watch.  For the first time in four matches there was not a big six-point throw. Marinelli scored on a great double leg finish for a takedown in the last ten seconds of the match.  I am hoping these two meet in the NCAA Finals in two weeks.
174: Michael Kemerer vs. Mark Hall Part II was another entertaining match.  The points that Kemerer gave up in the danger zone was the difference in the match.  I did not like it but that is the rules. The takedown at the end of the match by Kemerer showed again that he can outlast Hall.  As with at 165, I am really hoping these two meet again in the NCAA Finals.
184: Abe Assad saw his first action since February 2 and placed fourth. Assad dropped a tough match in the Semifinals when he was unable to finish on several shots.  There isn't a single thing that I saw out of Assad that cannot be fixed before Nationals. I really like his athleticism, strength, and desire to mix it up. Considering the long layoff and being a true freshman, Assad impressed me.  I believe the potential is there for Assad to have a real good showing at Nationals. 
197 Jacob Warner came in as the #3 seed and placed third.  The low point of the tournament was a loss in the Quarterfinals.  The bright spot was how Warner responded with solid wins. Warner looked the best of his career in the Consolation Finals. Should Warner take the momentum of what we saw on Sunday, he will be a real force at Nationals. 
Hwt: Tony Cassioppi wrestled to seed by placing third. Cassioppi looked good on Sunday and ended the tournament with a big pin over a quality opponent.  As I have been saying, Tony Cassioppi will score a lot of points for Iowa at Nationals.
Congratulations to Spencer Lee for being named as the Big Ten Wrestler of the Year. A much deserved honor as Lee has dominated his opponents all season in the very tough Big Ten. Also congratulations to Tom Brands for being named as the Big Ten Coach of the Year. Brands was also named for this honor in 2008, 2009, and 2010. 
The time between now and Nationals will fly by.  I have never seen a reaction on Social Media like I did yesterday and today from Iowa Wrestling fans. The Iowa Wrestling  Nation is excited.
Stats from Big Tens: 
This was the 36th Big Ten title in Iowa Wrestling history.  The most in the Big Ten.
157.5 was the most points scored by an Iowa team at Big Tens since 1995.
Three Big Ten champs is the most for an Iowa team since 2003.
All nine of the placewinners earned automatic bids to the NCAA Tournament.
Spencer Lee is the first Hawkeye named as Big Ten Wrestler of the Year since 2008. 
Tom Brands picked up his fourth Big Ten Coach of the Year award.
There were nine schools represented in the Big Ten Finals.
BIG TEN WRESTLING CHAMPIONSHIPS INDIVIDUAL AWARDS
Wrestler of the Year: Spencer Lee, IOWA
Coach of the Year: Tom Brands, IOWA
TEAM STANDINGS
IOWA              157.5

Nebraska         

132

Ohio State       

112

Penn State       

107

Purdue              83

Northwestern  79.5

Michigan           

73

Minnesota       

63.4

Wisconsin         

62.5

Michigan St     57    

Illinois              49                                                         

                                                                                                                                                                                                                                

Rutgers           25.5

Indiana          

14.5

Maryland        

0.0
It is great to be an Iowa Wrestling fan.
Go Hawks!