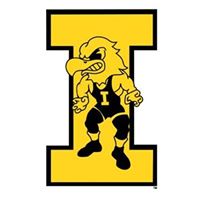 Drake Ayala of Fort Dodge, Iowa announced on Twitter that he will be an Iowa Hawkeye.  Ayala is ranked #1 or #2 in the major high school rankings at 120 lbs. and is considered an elite recruit in the Class of 2021. Ayala is a two-time defending state champion and was a runner-up as a freshman. Ayala won a Cadet and Junior Freestyle national title in Fargo 
Ayala chose Iowa over Iowa State, Ohio State, North Carolina, and Michigan.
With the tradition and environment that Iowa has in the lighter weights, Ayala will fit right in and has all of the tools to have a great career as an Iowa Hawkeye.
Iowa is following up an outstanding Recruiting Class of 2020 with an impressive and growing Class of 2021 that includes Wyatt Henson, Caleb Rathjen, and Cam Lucero. An elite recruit like Ayala will be a great addition to the Iowa Wrestling program.
Iowa Wrestling continues to tear it up on the recruiting trail and the future looks great.
It is great to be an Iowa Wrestling fan.
Go Hawks!