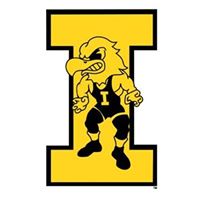 The most open weight class in the Big Ten and in the entire country is 184 lbs.  I do not know if I have ever seen a more open weight heading into the tournament season. The unknown in this case will make 184 fun to watch. 
Abe Assad made a name for himself by placing second at Midlands in December as a true freshman. It was huge news when Assad burned his redshirt and took the mat at Indiana on January 10.  I will admit that I did not see that one coming. Assad looked very good right out of the gate with a win at Indiana and Purdue. It was the 6-4 decision over Taylor Venz of Nebraska who was ranked #5 in the country at the time that really got the Hawkeye fans excited. 
Assad has not competed due to an injury since a close loss at Michigan State to Cameron Caffey on February 2.  Should they meet in the Semifinals of Big Tens, I really like Assad's chances. It is challenging to predict or forecast at this entire weight in the Big Ten.  I will go on what we all saw out of Assad in varsity action.      
There will be two wrestlers in the NCAA National Finals in a little over two weeks at 184 lbs. I would hate to try and predict who they may be because 184 is that wide open. What i do know is that Assad is one heck of a talented and tough wrestler who is still a bit of an unknown and that could be an advantage. At Big Tens and the NCAA National Tournament, Abe Assad will be the only wrestler at 184 lbs. that is an Iowa Hawkeye and there is a lot of value in that. Especially this year.
Big Ten Conference Tournament: March 7-8 
Big Ten Automatic Bids for NCAA National Tournament at 184 lbs. – 10
Abe Assad
Big Ten Championships Pre-Seed: #3
NCAA D-I Coaches Ranking: #4
Record: 19-5
Falls: 3
Tech Falls: 4
Major Decisions: 0
Decisions: 12
184 lbs. Big Tens Pre-Seeds
  Aaron Brooks, PSU

  Cameron Caffey, MSU

  Abe Assad, IOWA

  Taylor Venz, NEB

  Billy Janzer, RU

  Rocky Jordan, OSU

  Zach Braunagel, ILL

  Owen Webster, MINN

  Johnny Sebastian, WIS

 Jelani Embree, MICH

Max Lyon, PUR

Jack Jessen, NU

Jake Hinz, IND

Kyle Jasenski, MD
184 lbs. NCAA D-I Coaches Ranking and results of Big Ten matches:
#4 Abe Assad
Abe Assad over Jake Hinz (IN) Tech Fall 17-2 (Midlands)
Abe Assad over #9 Zach Braunagel (IL) Fall 2:05 (Midlands)
Abe Assad over Jake Hinz (IN) Dec 9-6
Abe Assad over #28 Max Lyon (PUR) Dec 5-2
Abe Assad over #2 Taylor Ventz (NE) Dec 6-4
Abe Assad over #9 Rocky Jordan (OSU) 3-1
Aaron Brooks (PSU) over Abe Assad Dec 7-3
#17 Cameron Caffey (MSU) over Abe Assad Dec 3-2
It is great to be an Iowa Wrestling fan.
Go Hawks!