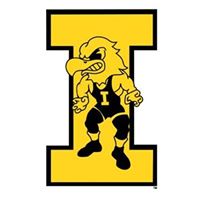 133 lbs. is my pick as the toughest weight in the upcoming Big Ten Championships. The Big Ten has the top three ranked wrestlers in the country. Only Hwt and 141 can match that in the Big Ten. 133 is so deep that we will see some real good matches in the Quarterfinals with nationally ranked wrestlers. 
Austin DeSanto is the Pre-Seed #3 at 133.  Should that hold up, I really like the way the bracket is set for DeSanto.
DeSanto, a true junior, is 14-2 for the season with eleven wins by bonus.  Considering the quality of competition he has faced from the Big Ten, DeSanto has had a very good regular season.  DeSanto will be looking to improve on his fourth place finish at the Big Tens last year.  
When you have the #1,2,3,6,8,10, and 12 ranked wrestlers in the entire country in a conference tournament, there will be some great matches going on every single round. The NCAA Allocations for 133 is 7. 
Big Ten Conference Tournament: March 7-8 
Big Ten Automatic Bids for NCAA National Tournament at 133 lbs. – 7
Austin DeSanto
Big Tens Pre-Seed: #3
NCAA D-I Coaches Ranking: #3
Record: 14-2
Falls: 2
Tech Falls: 6
Major Decisions: 3
Decisions: 3
Big Tens Pre-Seeds at 133 lbs.:
  Seth Gross, WI         

  Roman Bravo-Young, PSU

 

Austi

n DeSanto

, IOWA

  Travis Piotrowski, IL

  Sebastian Rivera, NW

  Ridge Lovett, NEB

  Sammy Alvarez, RUT

  Joey Silva, MI

  Crayden Rooks, IN

Garrett Pepple, MSU

Boo Dryden, MN

Travis Ford-Melton, PUR

King Sandoval, MD

Jordan Decatur, OSU
133 lbs. NCAA D-I Coaches Ranking and results of matches wrestled:
3. Austin DeSanto – Iowa
1. Seth Gross – Wisconsin
Austin Desanto over Seth Gross Dec 6-2
Seth Gross over Austin DeSanto Dec 6-5 (Midlands)
2. Roman Bravo-Young – Penn State
Roman Bravo-Young over Austin DeSanto – Injury Default
6. Travis Piotrowski – Illinois
Austin DeSanto over Travis Piotroski Dec 10-4
8. Sammy Alverez – Rutgers
10. Sebastian Rivera – Northwestern
12. Ridge Lovett – Nebraska
Austin DeSanto over Ridge Lovett Dec 7-4
31. Jordan Decatur – Ohio State
Austin DeSanto over Jordan Decatur Tech Fall 27-12
It is great to be an Iowa Wrestling fan.
Go Hawks!