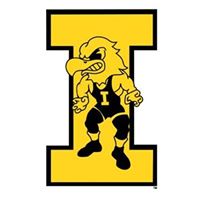 Jacob Warner enters Big Tens as the Pre-Seed #3 at 197 lbs. Should that Pre-Seed hold up this would be a very good draw for Warner.  This would have Warner matched up against Shakur Rasheed of Penn State in the Quarterfinals and possibly Eric Schultz of Nebraska in the Semifinals.  I could not ask for a better draw than that. Warner defeated Rasheed 4-2 and lost to Schultz 3-1 in Big Ten dual meets this season. I like Warner's chances in those two matches at Big Tens.  I like his chances a lot.
Warner has developed at a consistent pace throughout the season.  His defense on the feet and having an advantage on the mat with being able to escape and ride has been a successful formula.  Warner has shown that he has very good leg attacks and is really tough to beat when he has the lead.
The whole key to Warner's success at the Big Tens and Nationals will be the first takedown.  With a lead, Warner is very good when his opponent has to shoot in on him. He has also proven that he knows how to win close, low scoring matches.  
We will know how far Warner has come this year should he face #1 ranked Kollin Moore of Ohio State in the Big Ten finals.  They have not faced each other this season. I would have no problem with a Warner-Moore match in the finals of Big Tens and the NCAA National Tournament.  Depending on seeds at Nationals, there is a good chance that will happen.
We still have yet to see the best version of Jacob Warner.  I really believe the potential is there to win it all this year.
Big Ten Conference Tournament: March 7-8 
Big Ten Automatic Bids for NCAA National Tournament at 197 lbs. – 6
Jacob Warner
Big Ten Championships Pre-Seed: #3
NCAA D-I Coaches Ranking: #3
Record: 15-3
Falls: 0
Tech Falls: 0
Major Decisions: 5
Decisions: 10
197 lbs. Big Tens Pre-Seeds
  Kollin Moore, OSU

  Eric Schultz, NEB

  Jacob Warner, IOWA

  Christian Brunner, PUR

  Lucas Davison, NU

  Shakur Rasheed, PSU

  Jordan Pagano, RU

  Jackson Striggow, MICH

  Jaron Smith, MD

Hunter Ritter, MINN

Matt Wroblewski, ILL

Nick May, MSU

Taylor Watkins, WIS

Nick Willham, IND
197 lbs. NCAA D-I Coaches Ranking and results of Big Ten matches:
#3 Jacob Warner
Jacob Warner over Taylor Watkins (WI) Dec 5-2
Jacob Warner over over Hunter Ritter (MN) Med forfeit
Jacob Warner over Nick Willham (IN) Dec 8-3
Jacob Warner over #4 Christan Brunner (PU) Dec 8-2
#6 Eric Schultz (NE) over Jacob Warner Dec 3-1
Jacob Warner over Shakur Rasheed (PSU) Dec 4-2
Jacob Warner over Nick May (MSU) Dec 5-2
Jacob Warner over #22 Jackson Striggow (MI) 4-1
Jacob Warner over Hunter Ritter (MN) Maj Dec 13-4
It is great to be an Iowa Wrestling fan.
Go Hawks!