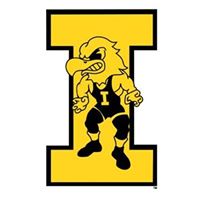 149 is yet another weight that I am looking forward to at the Big Ten Championships this weekend.  Pat Lugo looks like a confident senior that is on a mission. The top four in the Pre-Seeds are ranked in the top seven in the country and Lugo has competed against the other three wrestlers. That is an advantage for Iowa. Lugo will have a tough match in the semifinals if seeds hold up with Brayton Lee of Minnesota.  Lugo defeated Lee in the dual meet 3-2.  
There is a potential rematch in the finals with #1 Sammy Sasso of Ohio State who was the only one to defeat Lugo this season.  I am really hoping for that rematch in the finals. I like Lugo's chances.
Lugo has continued to improve this season and he looked his best ever with a Fall in 2:21 over #5 ranked Boo Lewallen of Oklahoma State. Lugo has proven that he can win close matches.  As long as his defense holds up and he finishes enough shots to have a lead, Lugo is going to be very difficult to beat. Getting the first takedown in a match is very important for Lugo. 
Pat Lugo is confident and I really, really like that. Lugo's confidence makes me confident.
Big Ten Conference Tournament: March 7-8 
Big Ten Automatic Bids for NCAA National Tournament at 149 lbs. – 10
Pat Lugo
Big Ten Championships Pre-Seed: #2
NCAA D-I Coaches Ranking: #2
Record: 18-1
Falls: 2
Tech Falls: 1
Major Decisions: 3
Decisions: 12
149 lbs. Big Tens Pre-Seeds:
  Sammy Sasso, OSU

  Pat Lugo, IOWA

  Brayton Lee, MINN

  Kanen Storr, MICH

  Graham Rooks, IND

  Cole Martin, WIS

  Collin Purinton, NEB

  Jarod Verkleeren, PSU

  Yahya Thomas, NU

Griffin Parriott, PUR

Gerard Angelo      

RU

Alex Hrisopoulos, MSU

Mousa Jodeh, ILL

Ryan Garlitz, MD
149 lbs. NCAA D-I Coaches Ranking and results of matches wrestled:
#2  Pat Lugo – Iowa
#17 Cole Martin – Wisconsin
Pat Lugo over Cole Martin Dec 5-2
#1 Sammy Sasso – Ohio State
Sammy Sasso over Pat Lugo Dec 2-1 TB1
#20 Jared Verkleeren – Penn State
Pat Lugo over Jared Verkleeren Dec 6-1
#7 Kanen Storr – Michigan
Pat Lugo over Kanen Storr Dec 2-0
#6 Brayton Lee – Minnesota
Pat Lugo over Brayton Lee Dec 3-2
#5 Boo Lewallen Oklahoma State
Pat Lugo over Boo Lewallen Fall 2:21
It is great to be an Iowa Wrestling fan.
Go Hawks!