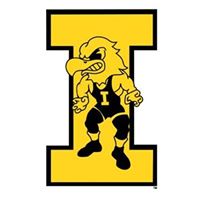 The Big Ten has been home to the best Hwt wrestling in the country for years. The #1,2,3, and 6 rated wrestlers in the country are in the Big Ten.  That will make for quite a Big Ten Conference Tournament. I was a little bit surprised that Mason Paris of Michigan was the Pre-Seed #1.  I really thought that Gable Steveson of Minnesota would get the top seed. 
Should the Pre-Seeds hold up, Cassioppi will probably have Gary Traub of Ohio State in the Quarterfinals.  That would set up a big match in the Semifinals with Steveson of Minnesota. With a 16-2 record, the only losses on the season for Cassioppi is to Paris and Steveson. I look for Cassioppi to be wrestling his best of the season this weekend against some great competition.
The good news is that Cassioppi will not face any tougher competition at Nationals than he will at Big Tens. We will see the best of the best at Hwt this weekend at Big Tens.  
Big Ten Conference Tournament: March 7-8 
Big Ten Automatic Bids for NCAA National Tournament at Hwt – 7
Tony Cassioppi
Big Ten Championships Pre-Seed: #3
NCAA D-I Coaches Ranking: #3
Record: 16-2
Falls: 5
Tech Falls: 0
Major Decisions: 3
Decisions: 8
Hwt Big Tens Pre-Seeds
  Mason Parris, MICH

  Gable Steveson, MINN

  Tony Cassioppi, IOWA

  Trent Hilger, WIS

  David Jensen, NEB

  Gary Traub, OSU

  Seth Nevillis, PSU

  Thomas Penola, PUR

  Luke Luffman, ILL

Alex Esposito, RU

Christian Rebottaro, MSU

Jake Kleimola, IND

Jack Heyob, NU

Parker Robinson, MD
Hwt lbs. NCAA D-I Coaches Ranking and results of Big Ten matches:
#3 Tony Cassioppi
Tony Cassioppi over #6 Trent Hilger (WI) Dec 3-2
Tony Cassioppi over #17 Thomas Penola (PUR) Fall 1:31 (Midlands)
Tony Cassioppi over #17 Thomas Penola (PUR) Fall 2:00
Tony Cassioppi over #15 Gary Taub (OSU) Dec 9-3
Tony Cassioppi over Seth Nevills (PSU) Dec 7-0
#1 Mason Paris (MI) over Tony Cassioppi Fall 4:31
Gable Steveson (MN) over Tony Cassioppi Dec 7-5
It is great to be an Iowa Wrestling fan.
Go Hawks!