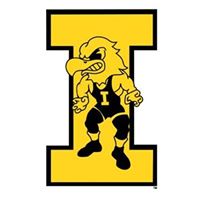 With the high school season completed, Willie Saylor of MatScouts released his new ranking of the top high school wrestlers in the country.  In the Pound For Pound (P4P) Ranking for all weights and grades in the country combined, Patrick Kennedy is ranked #3 and Jesse Ybarra is ranked #14.  If you have been following my Iowa Wrestling Fan Blog and Podcast you know that I am very high on Kennedy and Ybarra. That is two elite recruits with a great future in the same recruiting class.
In the weight class rankings Kennedy is ranked #1 at 182 lbs. wrestling up a weight class. Kennedy is the leader of the incoming recruits and has a great future at 165/174 for the Hawks. Ybarra has went from fifth to #3 at 126.
Bretli Reyna is up one spot to #8 at 145. Wyatt Henson is #8 (up from #12) and Caleb Rathjen remained at #14 at 138. Gabe Christenson is #8 (up from #14) at 195. Cullan Schriever was not in the rankings in January and he is now #9 at 126.
It is great to see the Iowa recruits going up in the national rankings and by quite a bit. They certainly earned their new rankings.
Kennedy, Ybarra, Reyna, Christenson, and Schriever are in the outstanding Iowa Wrestling Recruiting Class of 2020.  Henson and Rathjen are in the Class of 2021. 
The complete list of the national high school rankings can be found under Willie Saylor of MatScouts at rokfin.com/MS1. 
The future of Iowa Wrestling looks great.
MatScouts Rankings in March 16, 2020
Patrick Kennedy, 182 lbs. – #1
Jesse Ybarra, 126 lbs. – #3
Bretli Reyna, 145 lbs. – #8
Wyatt Henson, 138 lbs. – #8
Gabe Christenson, 195 lbs. – #8
Cullan Schriever, 126 lbs. – #9
Caleb Rathjen, 138 lbs. – #14
It is great to be an Iowa Wrestling fan.
Go Hawks!