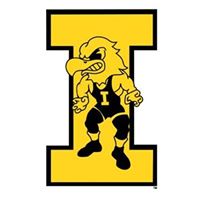 Incoming Iowa Wrestling recruit Patrick Kennedy of Kasson-Mantorville High School won his fourth Minnesota state title.  Kennedy capped of a perfect 36-0 season with a 5-2 decision over Quayin Short (Simley) for the AA title at 182 lbs. Short had been rated #1 at 195 throughout the season and Kennedy is wrestling up a weight. In the early rounds Kennedy had two falls and a tech fall to make the finals.
Patrick Kennedy looks to have a great future as an Iowa Hawkeye in front of him and Hawk fans are really going to like seeing him compete in the Black and Gold. Kennedy will be able to redshirt next season in a room full of great seniors around his weight.  I look for Kennedy to be an immediate force and potential national champion contender for Iowa in the 2021-2022 season.
Kennedy is ranked #1 in the country at 182 lbs. while wrestling up a weight class.  That is impressive and not something that you see very often.  Kennedy is the prized recruit in the outstanding Iowa Wrestling Recruiting Class of 2020 and is projected to compete at 165/174 for the Hawks.
Champ. Round 1 – Patrick Kennedy (Kasson-Mantorville) 33-0 won by fall over Riley O`Malley (Tri-City United) 39-12 (Fall 1:37)
Quarterfinal – Patrick Kennedy (Kasson-Mantorville) 34-0 won by fall over Karter Wensmann (Sauk Centre-Melrose) 35-11 (Fall 0:45)
Semifinal – Patrick Kennedy (Kasson-Mantorville) 35-0 won by tech fall over Tanner Young (Pierz) 36-4 (TF-1.5 2:14 (15-0))
Finals: Patrick Kennedy (Kasson-Mantorville) (36-0) won by decision over  Quayin Short (Simley) (47-4) 5-2
It is great to be an Iowa Wrestling fan.
Go Hawks!