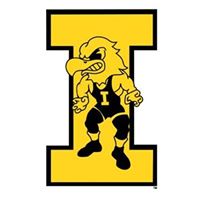 Iowa Wrestling greats Chad Zaputil and Tom Huff have been named to the Class of 2020 for induction into the Iowa Wrestling Hall of Fame in Cresco, Iowa. Both were selected by a unanimous vote.
Huff is originally from Waterloo, Iowa where he was a three-time state champion (1957-59) at Waterloo West for legendary Hall of Fame coach Bob Siddens. At the University of Iowa, Huff was a two-time Big Ten Champion in 1962 and 1963.  In 1962 Huff placed third at 130 lbs. and in 1963 he was an NCAA Runner-Up at 137 lbs. for Hall of Fame Coach Dave McCuskey. 
Huff continued his wrestling career as a Colonel in the United States Air Force where he placed in two Olympic Trials. Tom is a member of the Huff family that was inducted into the National Wrestling Hall of Fame for the Family Legacy Award in 2013.
Zaputil is originally from Mystic, Iowa and was a two-time state champion for Centerville High School in 1987-88.  Zaputil competed in one of the most iconic matches in Iowa High School wrestling history when he defeated future Iowa Hawkeye teammate and two-time World champion Terry Brands in the 119 lbs. 2A State Finals in 1987.
At the University of Iowa Zaputil was a three-time NCAA Runner-Up and three-time Big Ten champion at 118 lbs. (1991-93) for legendary coach Dan Gable. Iowa won the NCAA team title all three years Zapitul was in the lineup. I consider the 1991 and 1992 Iowa Hawkeye team to be the greatest in the history of NCAA college wrestling.
After college Zaputil was an influential co-founder of RAW (Real Amateure Wrestling) in southern California that trained wrestlers to compete in the UFC. RAW was a force in the early days of the UFC with former wrestlers winning UFC titles like Randy Couture and was considered one of the best MMA gyms in the world.
I would also like a special mention to Class of 2020 inductee Wyatt Schultz.  Wyatt is the longtime owner, publisher, writer, and photographer for The Predicament and is very deserving to be in the Iowa Wrestling Hall of Fame.
Due to the recent health crisis situation, the Class of 2020 for the Iowa Wrestling Hall of Fame will be inducted on Monday, April 12, 2021 in Cresco, Iowa.
It is great to be an Iowa Wrestling fan.
Go Hawks!