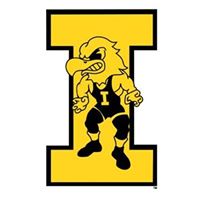 Incoming Iowa Wrestling recruits Drake Ayala and Caleb Rathjen had impressive performances at the Junior National Freestyle Championships in Fargo, North Dakota. Ayala won a title and Rathjen lost a close one in the finals to place second.
Ayala, from Ft. Dodge, Iowa,  was dominating in winning the title at 126 lbs.  In the finals Ayala won by a tech fall over Sergio Lemley of Indiana, 10-0.  For the tournament Ayala was 7-0 with six tech falls and a fall and outscored his opponents by a combined score of 72-4.  That is dominating.
Rathjen stormed to the145 lbs. finals with six tech falls and a 7-2 decision.  Rathjen had the lead over Jordan Williams of Oklahoma and gave up two points exposure as time expired to drop the finals match 4-3. Iowa challenged the call but was denied.  Tough loss.  
Ayala was a three time state champion at Fort Dodge (Iowa) where he racked up a 171-3 career record as a four time finalist and won a Super 32 title.  He was named as the Bob Steenlage High School Wrestler of the Year. Rathjen was a two-time state champion at Ankeny (Iowa) and was a two-time Cadet Freestyle All American.     
Ayala and Rathjen are members of the Iowa Wrestling Recruiting Class of 2021 and will be a freshman at the University of Iowa this fall.
Iowa Wrestling Assistant Coach Ryan Morningstar was the head freestyle coach for Team Iowa.  
It is great to be an Iowa Wrestling fan.
Go Hawks!