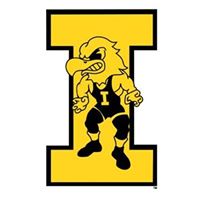 The Olympics had our attention recently and for good reason. What a great performance by Team USA.  Now it is back to work on my true passion for this blog: Iowa Wrestling recruiting.
August 1 was the official date when coaches could begin making in-house visits with the Recruiting Class of 2023 that will be juniors.  The Iowa Wrestling coaching staff was in full force across the country as you would expect.
Head Coach Tom Brands was in Maryland to visit with Meyer Shapiro. Already a highly sought after recruit, Shapiro became even more popular with college coaches after winning a Cadet World title last month in Budapest, Hungary at 65kg/143 lbs. Shapiro defeated Giorgi Gogritchiani of Georgia in the finals 8-4. He set the pace and kept attacking until the match was secured. Just what you like to see in a recruit. With a title like Cadet World Champion associated with his name, Meyer Shapiro will be a huge get for the college that receives a commitment. 
Assistant Coach Terry Brands was in Georgia for an in-house visit with elite recruit Gabe Arnold.  Already a two-time Prep School national champion Arnold will be a junior at national powerhouse Wyoming Seminary this fall. Arnold will be facing the toughest competition in the country throughout his high school career and that will prepare him well for college. Arnold stormed through the competition in winning a Cadet national title at 170 lbs. in Fargo this summer. Arnold is really powerful and looks to be the type of wrestler that may be ready to go on the collegiate level nationally from day one. No redshirt needed. 
Iowa Assistant Coach Ryan Morningstar was a clinician at the Sebolt Wrestling Camp in Jefferson, Iowa last week.  Morningstar has been busy this summer as the Head Coach for Team Iowa at Junior Duals and Junior/Cadet Nationals. I have no doubt at all that Morningstar is dialed in to this elite Class of 2023 recruits especially in Iowa.
The State of Iowa is absolutely loaded for the Class of 2023.  Nate Jesuroga of Southeast Polk just won a Bronze medal at the Cadet World Championships in Budapest, Hungary and is ranked #1 in the country.  I am also really high on Ben Kueter of Iowa City (City High), Tate Naaktgeboren of Linn-Mar (Marion), and Ryder Block of Waverly-Shell Rock. Wrestling fans, that is an outstanding list of recruits and they are right here in Iowa. 
There are more recruits in this class and they are only going to be juniors this fall.  Plenty of time for even more elite recruits to develop in this class.  The Class of 2023 looks to be the best recruiting class in Iowa since 2005.
I will keep you up to date right here as the Hawks look to be in a great position to have a truly special Iowa Wrestling Recruiting Class of 2023.
I have been saying for years that Ryan Morningstar is the best college wrestling recruiter in the country and there is nobody better than Tom Brands at closing the deal for a commitment from a recruit.
Morningstar will find them.

Tommy will sign them.

Terry will train them.
It is great to be an Iowa Wrestling fan.
Go Hawks!